November 4–5, 2023
A weekend of poetry featuring Dan Beachy-Quick, Victoria Adukwei Bulley, Andrea Gibson, Carmen Giménez, Radha Marcum, André O. Hoilette, Juan Morales, Linda Hogan, Alice Notley, and more!
Afternoon readings and lectures require a pass (which include everything after 11:30 AM on the select day): check out the Poetry Fest: Full Weekend Pass (includes both days), Poetry Fest: Saturday Pass, or Poetry Fest: Sunday Pass. Morning intensives are á la carte, and those who wish to attend either the Epic Poetry or Radiant Quiet readings and conversations—or free readings from some favorite local poets (here, here, and here)—can register for those individually. 
Poetry Fest is a dynamic weekend of readings, classes, panels, short craft talks, and celebrations; a mini-festival custom-made for poets and the poetry-curious. We'll be joined by the likes of Alice Notley, Linda Hogan, and Victoria Adukwei Bulley, a panel of writers from Freeman's, and beloved, award-winning poets from around town. Whether you're published or simply a fan, come celebrate the wildly diverse, extraordinary world of contemporary poetry with us!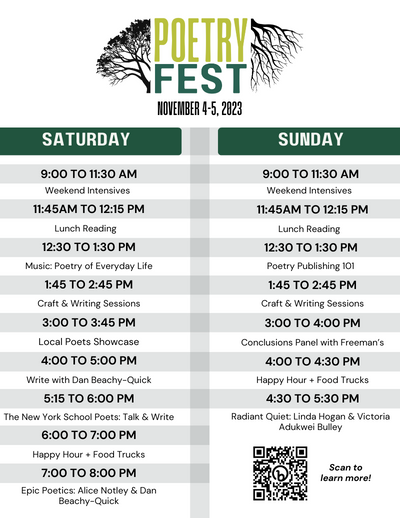 In the morning, register for weekend intensives from André O. Hoilette and Radha Marcum on origin stories and sense in poetry. In the afternoon, Poetry Fest passholders can attend panels on The Poetry of Everyday Life (music!), Poetry Publishing, and Endings, and choose from craft talks like Freewriting with Trees, Poetry for Haters, and Writing the Interior with Victoria Adukwei Bulley, Juan J. Morales, and John Freeman (and more). In between you'll find socializing and readings from some wonderful Colorado poets. All culminating in two headline readings and conversations: Saturday's reading and conversation with Dan Beachy-Quick and Alice Notley and Sunday's reading and conversation with Victoria Adukwei Bulley and Linda Hogan.