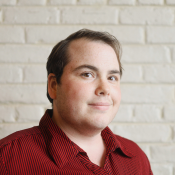 YOUTH AND COMMUNITY PROGRAMS COORDINATOR
Sydney Fowler (they/them/theirs) is the Youth and Community Programs Coordinator at Lighthouse. They are primarily responsible for coordinating Queer Creatives and Poetry Out Loud.
Additionally, Sydney teaches in both Lighthouse's Young Writers and adult Community Engagement Programs. They are a sensitivity / authenticity reader through Inqueery LLC. They have a double BA in Queer Studies and Psychology from Metropolitan State University of Denver.
Their publications include an essay in The Snarktastic Guide to College Success (Pearson), a peer-reviewed article in New Directions in Folklore, a chapter in Handbook of Sexuality Leadership (Routledge), a short story in And We Created Worlds (Lighthouse Writers Workshop), and a poem in Poems for The Ride (Coin-Operated Press). They graduated from the Lighthouse Book Project in 2021 and are currently working on their debut novel.