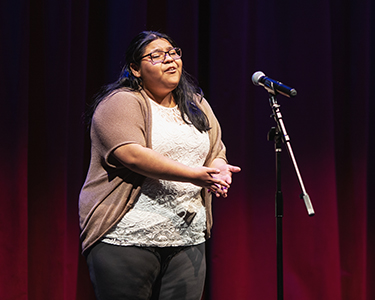 2022-2023 POL COLORADO STATE FINALS TIMELINE AND IMPORTANT DATES
Please mark your calendars with the important deadlines for Poetry Out Loud in Colorado. (Please note that dates are subject to change.)
January 17, 2023: Deadline to register for 2022-23 POL. Register here
February 6, 2023: Deadline to schedule visiting artist sessions.
February 12, 2023: Deadline to hold school/local contests and determine a school winner. More information about preparing for a contest here. 
February 19, 2023: Deadline for school champions to register their intent to participate in State Finals. Register here
February 26, 2023: Deadline to complete visiting artist sessions.
March 1, 2023: Colorado Poetry Out Loud State Finals at Lakewood Cultural Center located at 470 S. Allison Pkwy
May 8-10, 2023: Poetry Out Loud National Finals in Washington, DC*
**We are planning for an in-person national finals event. If that should change, we will let participants know immediately.**