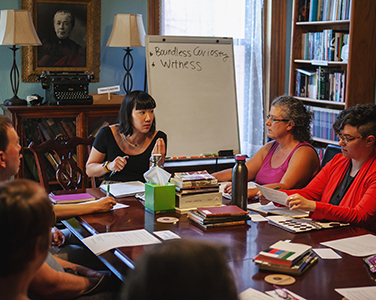 What's the Poetry Collective?
The Poetry Collective is a manuscript-focused curriculum for poets. It's a flexible, affordable program aimed at helping you produce a finished, high-quality book of poems that reads as a cohesive collection, not just a bundle of singular works. (Please note: The Poetry Collective has replaced the Poetry Book Project.)
Why The Poetry Collective?
While workshopping single poems is beneficial, it's not always ideal: Readers and instructors are often unfamiliar with the larger project and the voice of the poet—and writers can become prematurely focused on revising a few poems. We feel the best thing we can give our book-focused poets is a customized program that focuses on a schedule and a set of aesthetic goals. Our program pairs each writer with a mentor to chart a path through the project. The Collective also creates a community of writers to inspire and hold each other accountable to their writing goals. At the end of the program, each writer will emerge with a book of poems he or she can be proud of, plus a support team ready to help with next steps.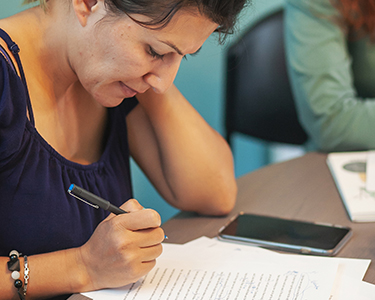 How Does It Work?
Over the course of a year, students participate in three one-on-one mentor meetings, three day-long intensives, three in-depth manuscript workshops, and one group follow-up manuscript meeting. Just 12 poets are admitted into the Poetry Collective at a time, ensuring a close-knit working group and lots of personal instruction. The year culminates in a reading and reception at Lighthouse's annual Lit Fest celebration.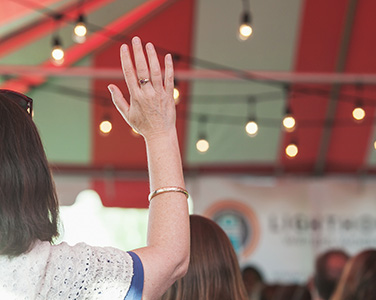 Info Sessions
Wondering if the Poetry Collective is right for you? Our informal info sessions are your opportunity to ask questions, meet mentors, and figure out if you're ready to take the leap. Watch a recording of the most recent info session below.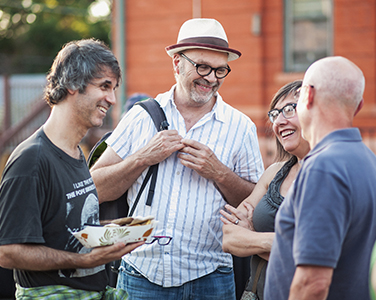 Faculty
In addition to the Poetry Collective mentors, Suzi Q. Smith and Andrea Rexilius, you'll be working with published, award-winning poets.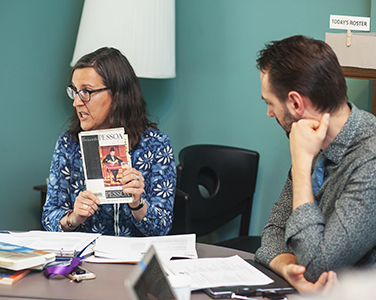 Suggested Curriculum
Before applying for the Poetry Collective, it's best if poets have taken (or plan to take while participating in the Poetry Collective) the following Lighthouse classes: Poetics, Poetry Schools Survey, Chapbook Workshop, and two Lighthouse 8-week poetry workshops (can include Lit Fest Advanced Workshops). Applicants may count workshops already taken at Lighthouse, and poets with advanced degrees can count courses completed through their degree program.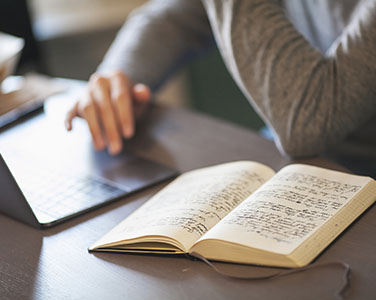 Applications
Applications for the 2023-2024 Poetry Collective, and Connie Zumpf Fellowship, closed on June 24.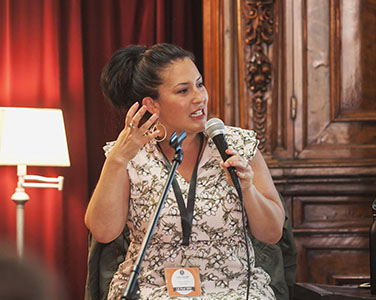 Tuition
Cost: $3,000 ($250 per month for 12 months). Monthly or quarterly payment plans are available with no interest. Applicants have the option to apply to the Connie Zumpf Poetry Fellowship, which is awarded to one or more poets who have been accepted to the Poetry Collective and who face financial barriers to participation, with preference given to people over 60 years of age.