A Brief History of Lighthouse, as Told by Location
By Michael Henry, Executive Director
Andrea Dupree and I met in graduate school at Emerson College back in the early 1990s, when I still had a good head of hair and thought that professional attire called for pleated khakis, a blue-jean shirt, and flowered tie. When we got our MFAs, we thought we'd send out a few resumes and get snatched up into tenure-track jobs at a university somewhere, no problem. But that never happened.
Over the course of the next year—1996, I believe—we engaged in deep conversations about what we wanted to do with our lives. The ideas were pretty simple: We wanted to write and to hang out with other writers. We wanted to publish our work. We wanted to teach.
One night, as we discussed this, Andrea turned to me and said something like, If we want to do these things, why don't we just do them on our own?
A brilliant idea, we thought! Little did we know it would become our life's work.
Melrose Massachusetts, Where the Orange Line ends (early 1997)
We came up with the name "Lighthouse Writers" after I found some Edward Hopper paintings of Lighthouses along the shores of Cape Cod. (I really dig Edward Hopper.) Upon gazing at those gorgeous and lonely images, Andrea and I came up with the name and a tag line almost immediately. "The Lighthouse: a beacon for writers."
Our very first workshop, held at our apartment in Melrose, attracted five students—a marketing writer, a working mom of three, a Ph.D. candidate in literature, a postdoctoral student from Japan, and a software engineer—and somehow they ended up loving it, and falling in love with one another. The bonds they formed in eight short weeks completely surprised us, and it made us think: heck, this idea just might work.
And so it goes. History becomes a long list of things attempted, and some—shockingly—completed: 20 years. More than $5 million in total workshop registrations, several thousand students, many thousands of bottles of wine (foggily estimated), a few glass obelisks (including the Denver Mayor's Award for Excellence in the Arts), two Best of Denver awards from Westword, and countless student publications and successes.
And: seven different locations for the house of Light. Taken together, these places tell the story.
The Loft on Arapahoe Street, across from the bus station (1997 to 2001)
Andrea and I, with our freshly minted MFAs and a half-written business plan, trekked down to the Colorado State Department in August 1997 and registered our business venture: Lighthouse Writers, Inc. Then we searched, sweating and dazzled in the Denver sun, for a place in which to live and hold workshops, and came up with two very different final possibilities: either a small bungalow near Washington Park, or a downtown loft, with 20-foot ceilings and giant cement pillars.
In what would become a habit when needing to make difficult decisions, we threw the I-Ching. We wrote down a question, something like "What will the impact be if we moved into a downtown loft and started running workshops there?" Then we tossed three pennies four times, and recorded how the trio came up—heads or tails. Then we found the corresponding answer in the book, where the title of the outcome was something like "Ascending." That's about all we needed to hear.
We moved into the loft, and began with a workshop of four people. The first class, one woman sat down and started talking. And talking, and talking. For the entire first hour. Without stopping.
Afterwards, one of the other members, exhausted from listening to this one-woman monologue, dropped out. We quickly learned how to manage a group's ebb and flow, how to make sure no one person dominates the discussion.
Things did get better.
As writers, we're concerned with moments, often mundane slices of time that expand suddenly to a glimpse of something larger, something that rests in a place beyond words. We write these moments because we do not know what we know about them; kind of like fishing in a lake, watching that little red-and-white bobber as it floats, waiting for something down deep to get hooked so we can reel it in from the depths.
During our very first one-day intensive, we handed out photos for students to use as writing prompts. Ray, a former Denver Post writer, grabbed an image of a man walking across a plowed field amid a deep fog, with a barren tree in the distance. When we finished, Ray read what he'd written—a short description of the family farm where he grew up. The farm was long gone, sold when his parents passed away. He'd written a simple admission, which knocked him over with emotion: I miss my father's farm.
That was when we first learned Kleenex would be an important workshop supply.
Our next eight-week workshop had 10 people (no monologuers, thankfully). And then we added another workshop, and another. Andrea and I co-facilitated. She made the copies of hand­outs; I made the coffee and put out the cookies. After everyone left, we'd tidy up a bit, and sometimes Andrea and I would go for easy runs up and down the 16th Street Mall, all aglow with various lights, the gentle, almost tired ringing of carriage bells, and the faraway shouts of revelers or the homeless.
The first few years, Lighthouse doubled in size, every year. Still, it was touch-and-go. Andrea and I both worked temp jobs—she, at the Four Seasons Hotel and Shamrock Foods. ("If I never have to get a job where I have to wear pantyhose every day, I will be a happy person," she often said during that time). For a time I reconciled health insurance statements in a windowless room for Blue Cross. Then, at a depressing school admin building somewhere in Commerce City, I worked three days and got fired. It was a low time. I didn't even know you could get fired from a temp job.
We ran up incredible amounts of debt. We deferred and then got forebearances on our student loans. Even though Lighthouse was a daily joy, it was a grim time. But, as they say—a true artist and visionary is able to stand at the edge of the abyss of financial disaster, and laugh mightily. Ha Ha, Ha Ha Ha!
The Victorian Era: 27th Street, Curtis Park (2001 to 2004)
Three days before 9/11, we moved, with the help of some longtime Lighthousers, into a cute but tiny Victorian about a mile east of the loft. Andrea was pregnant, and it rained most of the day, but we got everything stashed into the house. I painted the two upstairs bedrooms, marveling at the quiet streets and empty, brilliantly blue skies, as if our moving had somehow changed the entire world.
We ran workshops out of our house four nights a week. I remember hiding upstairs, listening to Avalanche hockey games and painting a used crib while Andrea taught her short story workshop in our living room. After the baby was born, I'd hide in that same room, holding a tiny wrapped bundle (baby burrito we called her), rocking and playing, singing and cooing, and, very rarely, napping. The chatter from downstairs made for a sweet background noise. And then the front door would shut a final time, the lock would click, and I'd hear Andrea's footsteps bounding up the stairs, and she would promptly steal the baby burrito away from me.
All the while, Lighthouse grew, and grew. Kind of like its own cute little crazy baby.
Renting in Five Points: Welton Street (2002 to 2003)
After much strain, Bill Henderson and I got the gigantic white sectional couch out of storage and stuffed it into the new workshop space on Welton Street (only one of us got a hernia, I think), where we effectively doubled our workshop capacity. We'd already begun to collect a staff of excellent writers, teachers, and part-time movers: Bill, Jenny Itell, Alexandre Philippe, Lisa Turner, and others. The white couch grew so dingy that I bought two navy blue coveralls for it, which hid the dirt but looked like a parachute had wafted down over the couch.
I had a student at that time—a handsome, boyish, kind of intense dude, who was writing about his childhood in Wyoming. Reading one of his submissions, it struck me: how his story was about men and boys and their often innate desire to put themselves in harm's way (he and his brothers certainly did). When I said this in workshop I unexpectedly teared up, and I realized again how powerful the reading and discussion process can be. We learn who we are, and sometimes why we're here. Or perhaps I should rephrase that: why we are who we are.
That Wyoming boy, Jay Kenney, would eventually become the founding president of our board of directors, after Lighthouse officially became a nonprofit organization, thanks to the work of our assigned IRS agent—an intense guy himself. His name, chiseled into the stone of my brain, for history's sake: William Jarvi.
Ars Gratia Artis (Not So Much) and Motel Hell (2004-2005)
I don't really want to talk about these places. At first they seemed ultra cool—an old train station with bizarre artwork on the walls—but each place grew less inspiring, and the landlords and their lease agreements were not as nice as I'd hoped (what the hell is force majeure?), and there were trains railing by, sirens blaring, leaks.
When we finally left the artist's studio, the landlord threatened to keep our security deposit. We'd damaged the floors, she'd said. A good friend—and short story workshopper, and lawyer—responded by writing one of the most amazing literary documents I've ever seen. It had the perfect balance of legal argument, bring-it-on challenge, and mocking disdain.
A check for our security deposit, in full, was received three days later.
I could say lots about the old motel on Speer near I-25, but I will sum it up thusly: industrial fluorescent lighting. We called it The Depressing Dentist's Office. (The building no longer exists.)
Coming Home: 2123 Downing Street (2005 to 2011)
All this time, the actual Lighthouse Office resided in our old Victorian. When Andrea had our second child, things got a little cramped. Often I would be taking registrations over the phone with a baby strapped to my chest (is Bjorned a word?), and Andrea would be working furiously on a long and convoluted document, and our eldest child would make her way over to Andrea's computer tower—sitting on the floor because there was no space on her desk—drawn in by the glowing On button. She'd promptly press that button, thereby shutting down Andrea's computer and obliterating whatever Andrea had been working on.
The line between work and life—always a temperamental demarcation at best—was washing away, and mistakes were made. Interns and volunteers came to help: Ken, Roy, and others. One helper, Sarah Ockler, helped us stuff envelopes, organize our website, and even got her employer to send us a donation. She took several writing workshops, and then signed a three-book deal for a young adult novel series. Such good people—and happy successes—kept us sane.
So when the Thomas Ferril House at 2123 Downing Street opened up as a possible space to lease from Colorado Humanities, we pounced. There would be space for employees! We'd have separate offices, and two bathrooms—one with a cute little clawfoot tub! We could run concurrent workshops and bathe whenever we wanted to!
We believed that the ghost of former Colorado Poet Laureate Tom Ferril was happy to see all these writers coming to his house to chat about craft, to write, and to work on the thing he so loved doing. The house was old and drafty—I used to sometimes go outside to sit in my car as it baked in the winter sun, just to warm up. But it felt like home. And home was where we hired out first employee, the amazing Amanda Rea, a talented writer who now teaches occasionally for Lighthouse. Here was where our youth program really took off, when we hired Meg Nix to run the program. And where our board of directors grew from its original four to 10 dedicated members.
There were many good times at House Ferril. The time a stray bullet sailed through the dining room window (thankfully it was a Friday night and the house was empty). The arctic cold freeze when the furnace died and we had to turn on all the water faucets to make sure the pipes didn't burst. (They didn't. But I did have to break up the ice that had formed in the toilets.) There were the first few Lit Fest celebrations, complete with bands in the cramped backyard, under some ancient trees. There were the little yapping dogs next door that never stopped their incessant barking. There were the pot growers next door who left to deliver volumes of brownies and other tasty items in their beat-up Toyota station wagon every morning. And there were the roses in the front yard—planted by Ferril himself—that bloomed every summer, sometimes twice.
By the end of 2010, however, we'd outgrown the Ferril House. We'd outgrown it! Incredible. At one point we noticed that the number of people on waitlists for workshops was equal to the number of students in workshops.
All I can say is such a realization is time for deep reflection. And the hiring of a realtor.
There Are Lions Out Front: 1515 Race Street (2011 to Present)
Enter the realtor. Cody, seemingly fresh out of college (or diapers), an adorably nerdy little guy who searched tirelessly for our new home. It took the entire winter and spring of 2011—and involved lots of standing around in empty warehouses, serpentine old law offices, and much imagining of torn-down walls, new doorways, etc.
Cody eventually found us a house—kind of like the Ferril House on steroids—just off Colfax, on Race Street. The Milheim House has its own unique history: it's the largest structure ever moved in Colorado in one piece. At almost 7,000 square feet, it boasts six classrooms, office space, and a grand performance space that can hold over 100 people. Plus, it has the best porch for summertime parties in all of Denver, we'd argue.
I guess you could say that Lighthouse is all grown up. But there is still lots of work to be done. I know that I—and the board of directors—would like to see Lighthouse become a lasting institution here in Denver, and a model for literary centers across the country. We'd like Lighthouse to be synonymous with literature and great books; we'd like Lighthouse to be known by pretty much everyone in Colorado as the literary hub of the state's arts culture. And we're getting there.
We're getting there by staying a close-knit and supportive community—all 1,800 members. We are family, as rowdy and dysfunctional and brilliant as family can be. For that I want to thank every writer, every member, every workshopper, who's ever bravely stepped across these various thresholds. As Thomas Ferril once wrote: "What it comes down to is making something out of what we are where we are." And where we are is home, which isn't merely a place.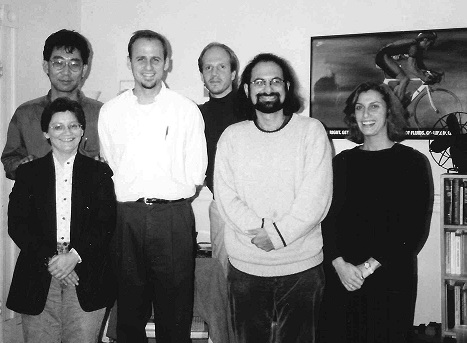 The first Lighthouse Workshop.