Alexandre O. Philippe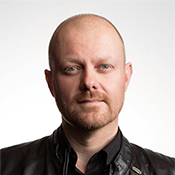 Publishing/Career

Lit Fest

Nonfiction

Play/Screenwriting

Process

All Levels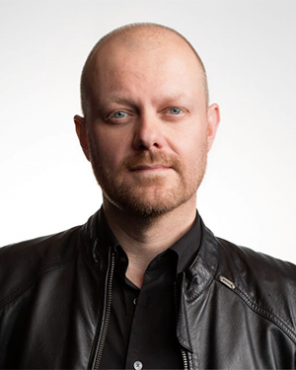 Contact Info:
Alexandre O. Philippe holds an MFA in Dramatic Writing from NYU's Tisch School of the Arts, and is Creative Director at Exhibit A Pictures. Most of his films take on the role of unpacking the most influential works of master filmmakers, and dissecting seminal screen moments.
Recent films include Leap of Faith: William Friedkin on The Exorcist, which premiered in competition at the 2019 Venice International Film Festival (Venice Classics), and had its North American debut at the 2020 Sundance Film Festival; and Memory: The Origins of Alien, which premiered as the Opening Midnight Film at the 2019 Sundance Film Festival, and was released theatrically, on home video and VOD/SVOD by Screen Media, Legion M, and Dogwoof.
In 2017, Alexandre's post-modern deconstruction of PSYCHO, 78/52: Hitchcock's Shower Scene, also premiered at the Sundance Film Festival as the only documentary in the popular Midnight Section. Co-produced by ARTE, 78/52 was picked up by IFC Midnight in the US, and Dogwoof for the international market—finding distribution in all key territories at the Berlin Film Festival, and subsequently selling to Netflix for the rest of the world. 78/52 received rave reviews from top critics (Variety, Entertainment Weekly, The Hollywood Reporter, RogerEbert.com, etc.) as the best film ever made about the Master of Suspense, and was theatrically released in the US, UK, Canada and Spain, after an extensive film festival run (BFI London, Karlovy Vary, Sydney, Melbourne, Hot Docs, San Francisco, Sitges, Deauville, Filmfest Gent, Jerusalem, and many others). Concurrently, Alexandre appeared on CBS, Charlie Rose, and Turner Classic Movies as co-host to Ben Mankiewicz to present TCM Spotlight: Alfred Hitchcock during the entire month of July 2017 in prime time. He was also invited to conduct an exclusive Hitchcock masterclass with Oscar-winning director Guillermo del Toro (The Shape of Water) at the Sitges International Fantastic Film Festival.
Additional works include DOC OF THE DEAD, which premiered at SXSW and was released by EPiX in the U.S. as the companion piece to World War Z; The Life and Times of Paul the Psychic Octopus, which premiered at the Edinburgh International Film Festival (feature version) and Sheffield Doc/Fest (broadcast version), and has been widely released around the world; and The People vs. George Lucas, which had event screenings at many prestigious film and documentary film festivals on the world stage, including SXSW (Spotlight Premiere), Hot Docs, Edinburgh International Film Festival, AFI Silverdocs, Filmfest München, Rome International Film Festival, Stockholm International Film Festival, Istanbul Film Festival, Los Angeles Film Festival, and CPH:DOX. A Top Entertainment Story on CNN.com, featured in Entertainment Weekly, The Hollywood Reporter, Wired, and Variety (among many others), PvsG was nominated for the Writers Guild of America Award for Best Documentary Screenplay at AFI Silverdocs. After a limited theatrical run across several territories, PvsG was released on DVD and Blu-Ray by Lions Gate Entertainment (US), Wrekin Hill Entertainment and e-One Entertainment (UK, Australia, NZ, South Africa), Kinosmith (Canada), Capelight (Germany, Switzerland), BAC Films (France), and Fine Films (Japan).
Alexandre has also directed several acclaimed short films, including Left—the first film in history to have been recorded, edited and mixed at the highest possible resolution (192kHz / 24-bit) for Dolby's TrueHD 5.1 surround sound technology. Leftscreened at 39 international film festivals, and won a slew of awards—including the Governor Award at the Akira Kurosawa Memorial Short Film Competition in Tokyo, and subsequently screened in six countries simultaneously to celebrate the 100th anniversary of Akira Kurosawa's birth. It was also released on 3 DVD collections of award-winning shorts in Japan, Spain, and in the United States.
Films currently in production include The Valley, a feature documentary about Monument Valley, John Ford's visual language, and the Myth of the West; Lynch/Oz, a deep dive into The Wizard of Oz through the films of David Lynch; and an ongoing series of short films for The Criterion Collection, titled Double Exposure.
Off the set, Alexandre regularly serves on numerous film festival juries, and conducts Film Deconstruction and Dramatic Writing seminars around the world at international film festivals, schools, and museums. A recipient of the Beacon Award for Excellence in Teaching from Lighthouse Writers Workshop, Alexandre also presented for TEDx and the Museum of Contemporary Arts Denver on numerous occasions, and curated the Language of Film series at the Starz FilmCenter for a period of three years.
In 2020, Alexandre's films are also set to receive two full retrospectives in Lima, Peru and Chelyabinsk, Russia.
Alexandre O. Philippe's Published Work