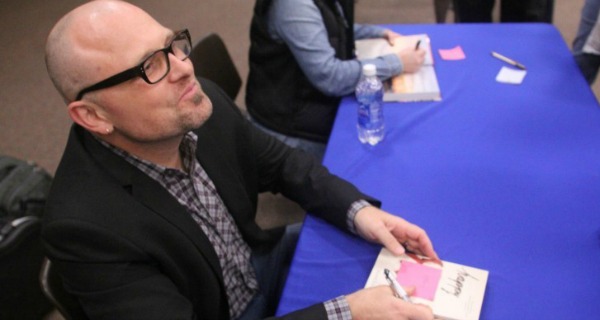 We lured Alex Lemon—poet, memoirist, English professor at Texas Christian University—to teach at Lighthouse with the promise of excellent students and a box of bison jerky. In the upcoming January session, he'll be teaching an online memoir workshop, plus he'll be in town as a guest at the January Book Project Weekend Intensive.
Alex's most recent books are Feverland: A Memoir in Shards (Milkweed Editions) and The Wish Book (a finalist for the Writer's League of Texas' Best Poetry Collection). He is the author of Happy: A Memoir (Scribner) and three other poetry collections: Mosquito, Hallelujah Blackout, and Fancy Beasts. Or Beauty, a fifth poetry collection, is forthcoming from Milkweed. His writing has appeared in Esquire, American Poetry Review, The Huffington Post, Ploughshares, Best American Poetry, Tin House, Kenyon Review, Gulf Coast, AGNI, New England Review, The Southern Review, Grist and jubilat, among others. He has received a Fellowship in Poetry from the NEA, a Jerome Foundation Fellowship, and a Minnesota Arts Board Grant. He is an editor-at-large for Saturnalia Books, the poetry editor of descant, a senior prose editor for Tupelo Quarterly, and sits on the editorial board of TCU Press and the advisory board of The Southern Review. He lives in Fort Worth, Texas, where he teaches at TCU.
So, yeah, he's kind of accomplished. We chatted recently about memoir, poetry, and kitties.
Bill Henderson: We first met at Ashland University, where I quickly learned that you're really smart and caring, that you pull off tattoo sleeves better than almost anyone, and that you have a harrowing personal story to tell. Can you talk about what compelled you to branch out from poetry into memoir? Your poetry often reads like memoir (albeit with heavy, sing-songy rhymes and tons of references to kitties and butterflies), so what did the more conventional storytelling attributes of memoir offer that you felt you needed?
Alex Lemon: I do all the kitties for you, Bill. You know that. And thank you for the compliment—it is true what they say about my brilliance and kindness. Teasing. I've always been compelled by and interested in writing in all the genres. My allegiances, even when first studying at the U of Minnesota as a poet, were to the written word—to the possibilities and machinations of language—and not to a singular genre. I had to work out of the genre I was studying, so I took courses in creative nonfiction (CNF) and fiction. And I soon learned there was not only tremendous overlap—that in many ways, it all boiled down to the attending to language—but that there were opportunities in all the genres and, especially for me, in memoir or CNF. My writing—in any genre—is raw and deeply personal, and I found out that the more ways that I mined the personal, the more nuanced and kaleidoscopic the emotional landscape of my writing became. If I attended to an event or idea through verse, it often felt like it had the instantaneous flash of a photograph, whereas working in creative prose, especially memoir, felt more like a slowly rendered 3-D image of the idea—one complete with more fissures and complications in panoramic visioning. So, for me, working in creative prose allowed me to access/shape/manipulate: heightened vicissitudes in tone, a more nuanced emotional amplitude, a larger spectrum of time to telescope, and an enlarged thematic canvas.
BH: Is there any difference between teaching poetry and memoir? Or … what are the similarities and differences?
AL: There are a multitude of similarities between the genres—revelation, movement, friction, pacing, emotional amplitude... One could go on and on about the commonality between poetry and memoir. But the ways in which we speak about the genres is different. Each has a unique, though sometimes overlapping, vernacular. But there are also distinct genre-specific concerns: the use of scene and everything that entails (character, setting, etc.) in memoir, for example, and line breaks and stanzaic patterning in poetry. At the core, the only true difference is the compositional unit of each: in prose, it is the sentence; in verse, it's the line. I think that working in and out of both memoir and poetry can be a galvanizing experience, thinking about some of the same thematic ideas in multiple ways is (for me) always illuminating and generative.
BH: I remember a dinner where you and I were talking to Terry Tempest Williams about how one writes in the current political climate. I was feeling that my stories didn't really matter in a country where art and truth were under attack. Terry said that now, more than ever, holding close to the truth, creating truth and art on the page, is a vital part of our shared experience, standing up against the darkness. (Ack. That was terribly phrased.) Do you think that memoir and poetry are vital parts of our shared experience? My fear lately, and also my source of freedom, is that the world will burn up soon enough and no one will know or care whether I got the characterization or point of view right. Sad.
AL: Bigly sad. Also: that was terribly phrased. Also: is this something you want to speak to me about in private—are you OK? It's hard not to be afraid and deeply concerned in the current political and cultural climate—especially as an artist. I think it would be problematic if one weren't. All that said—and I think this turns to your "source of freedom"—this hurtling and hurting current moment speaks to the vital ferocity of poetry and memoir—all art-making—and speaking truth to the darkness, of illumining the black night with the lightning of our humanity. But real talk: your characterization is terrible.
BH and AL: Ha.