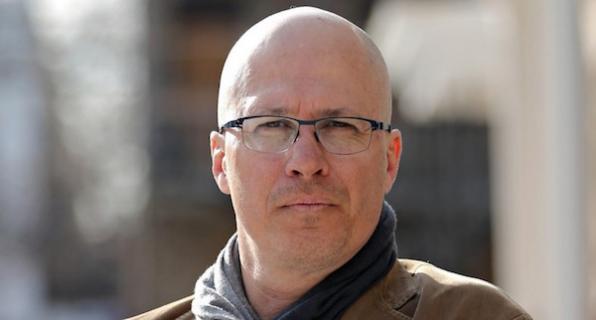 I fell in love with Aleksandar Hemon's writing when I read his story "The Conductor" in an anthology of well-written stories that, with a few exceptions, left me cold. "The Conductor" stunned me. From its opening wry reflections to its aching end, I saw a mix of vigor and vulnerability, intelligence and humor and anguish, I'd never before seen. "The Conductor" wasn't just everything I wanted from a story. It was everything I wanted in a person, and had it been a man, and had I been unmarried, I would have done all I could to make it mine.
*
"The Conductor" is, in a sense, a love story: Two Bosnian writers, one young, one old, rekindle their friendship in America after the Bosnian war. The young writer, the narrator, has long admired and resented the older writer, Dedo, who, in antebellum Sarajevo, had disparaged his poetry. The narrator leaves Sarajevo before the fighting breaks out; Dedo stays behind. Of their years apart, the narrator says, "I do not want to give the impression that I thought about him a lot or even often. The way you never forget a song from your childhood, the way you hear it in your mind's ear every once in a while—that's how I remembered him." But when they reunite and Dedo doesn't recognize him at first, "It was a painful moment, as the past was rendered both imaginary and false, as though I had never lived or loved." Dedo eventually recognizes him. They embrace, and drink, and talk, and drink, and clash with Dedo's wife. They stumble through the snow, through a beautiful and wretched night.
*
Every love story is a sad love story. I love Hemon's writing with the exquisite agony of loving someone I will never have. I can gaze upon it and admire it. It excites and pains me in turn. But it will never be mine. I will never write like him.
[caption id="attachment_9172" align="aligncenter" width="300"]
Aleksandar Hemon[/caption]
*
For example:
This took place before the war, in the relatively rosy times when we were euphoric with the imminence of disaster—we drank and laughed and experimented with poetic forms into the late hours. We tried to keep the war away from the Table, but now and then a budding Serbian patriot would start ranting about the suppression of his people's culture, whereupon Dedo, with his newly acquired elder status, would indeed suppress him with a sequence of carefully arranged insults and curses. Inevitably, the nationalist would declare Dedo an Islamofascist and storm off, never to return, while we, the fools, laughed uproariously. We knew—but we didn't want to know—what was going to happen, the sky descending upon our heads like the shadow of a falling piano in a cartoon.
*
And this:
[Dedo] was well outside my life, a past horizon visible only when the sky of the present was particularly clear.
As it was on the cloudless morning of September 11, 2001, when I was on a plane to D.C. The flight attendant was virginally blond. The man sitting next to me had a ring of biblical proportions on his pinkie. The woman on my right was immensely pregnant, squeezed into a tight red dress. I, of course, had no idea what was going on—the plane simply landed in Detroit and we disembarked. The Twin Towers were going down simultaneously on every screen at the unreal airport; maintenance personnel wept, leaning on their brooms; teenage girls screamed into their cell phones; forlorn pilots sat at closed gates. I wandered around the airport, recalling the lines from Dedo's poem: Alive, I will be when everybody's dead. / But there will be no joy in that, for all those / undone by death need to pass / through me to reach hell.
*
The best love stories are never just love stories. In Hemon, violence circles, until it strikes. He writes about power, and cruelty, and isolation. The rare connection and kindness. Most of all, he writes about loss.
*
Each time I read "The Conductor," it punches a hole in my heart. That, in part, is why I love it so.
*
Joy Williams says, "Good writing never soothes or comforts. It is no prescription, neither is it diversionary, although it can and should enchant while it explodes in the reader's face." Another word for this explosion: "Prophecy."
*
If I were a better writer, my love for Hemon would turn prophecy, about the world we live in now. I would write about violence and power and cruelty, connection and kindness, about all we stand to lose. The sky descending upon our heads.
*
A story can't love you, but it can crush you. The sky descends. A broken world. All this is metaphor. Metaphor, done right, is prophecy. It is also luxury. Neruda: "The blood of children ran through the streets without fuss, like children's blood."
*
I am whole, I am breathing. I might even be free. The question is, What's next?
Lighthouse instructor Jennifer Wortman will teach Online Reading as a Writer: Aleksandar Hemon starting February 13.