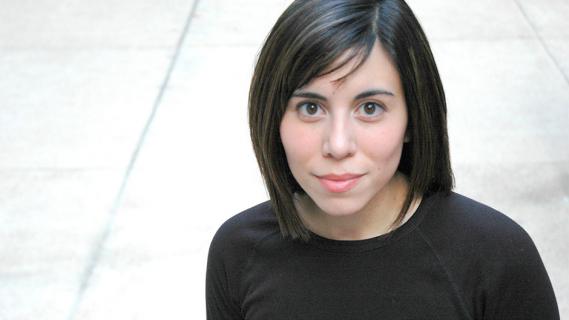 by Zoe Knight, a member of the Young Authors Collective
I started reading The Book of Unknown Americans at work, leaning against the counter between movie sets, turning pages faster than the popcorn was popping. By the end of my shift, I was halfway through the novel. I hungrily finished it the next day.
Needless to say, Cristina Henriquez's vivid narrative captured my attention. The Book of Unknown Americans, her second novel, focuses on a Delaware apartment building that houses assorted Latin American immigrants, all hoping that the United States can give them something better. Immigration is a timely story. Every day, we are aware that the grass is greener somewhere else, and for many, that somewhere else is the United States. But just because someone is aware of that feeling doesn't mean they are thinking about the struggles that immigrants face on a daily basis while trying to make a better life for themselves. The Book of Unknown Americans is a strong reminder of that, as the diverse characters make their lives in the United States the best they can, despite discrimination and limited opportunities.
The overlying plot of Henriquez's novel is a love story, written from the view point of alternating first-person narrators. Maribel and her parents have just emigrated from Mexico to Delaware in the hopes that Maribel can receive a better education after an accident caused severe brain damage. Mayor is an outcast son, overshadowed by his older brother, living in the building Maribel's family moves into. An unsure companionship at first, the awkwardness between the two teens slowly develops into Mayor's understanding of Maribel despite her brain damage, and in turn, Maribel becomes attached to Mayor. But underneath the passion of teenage romance lies the sharp realities immigrants face every day—language barriers, racism, and the loneliness that comes from leaving an entire life behind.
Henriquez is no stranger to these realities. Her father emigrated from Panama in the 1970s, and some of his influence comes through in the novel. The Henriquez family lived in Delaware, and Mayor's family also emigrated from Panama.
Henriquez is also no stranger to publication. Her short stories and nonfiction are published widely, from The New Yorker to This is Not Chick Lit. She has also published a novella and story collection, Come Together, Fall Apart, and a novel, The World in Half. As a well-versed story teller, it is no surprise that in an interview with Daniel Olivas for Los Angeles Review of Books, Henriquez states, "We all have stories to tell."
This plays into The Book of Unknown Americans, as another component of the novel is the stories of other immigrants living in the apartment building. Nelia Zafón
came to the United States to be a star and ended up owning a successful theater. Adolfo "Fito" Angelino is the building manager but once aspired to be a boxer. Gustavo Milhojas lives in the United States to make money to send to his family in Mexico, so his children can go to college. These chapters are my favorite part of the novel. Each character living in the apartment gets a chapter, written in first person, telling their story. Tales of the wonders or the horrors they left behind, descriptions of how they worked their way up through Latin America and into the United States, explanations of what compelled them to leave in the first place fill these pages. I feel this is what truly brings The Book of Unknown Americans to life—the stories of individuals who have done everything in their power to give themselves and their families something better, something more, something they believed could only be done in the United States. Some succeed, some do not. That's what makes them the unknown Americans, the immigrants who came to the United States and didn't magically turn their lives around. The ones who still work for their dreams despite being deterred and delayed. That is the power of Henriquez's novel.
Weeks after finishing reading The Book of Unknown Americans, I am still struck by the heartbreak and hope that Henriquez crafted. Her work will be current and timely for years to come; The Book of Unknown Americans makes these stories known and unforgettable.
Cristina Henriquez will be hosting a free Writing Talk for Teens November 7, 10:30 AM to 12:30 PM at East High School. RSVP here or to Kim@lighthousewriters.org. Henriquez will also give a craft talk, Sentence by Sentence, for adults at Lighthouse from 2:00 PM to 4:30 PM, followed by a benefit reception at a private home in south Denver. Henriquez joins Lighthouse as part of the Fly-By Writer's Program, which helps Lighthouse make workshops available to everyone through Writerships. 
---
Zoe Knight is an almost adult living in Denver, Colorado. She has been a part of Lighthouse Writers since the age of 10. Outside of Lighthouse, she fosters her love of writing as founder and president of her high school's Writing Club and as a mentor to other aspiring writers looking for their voice. Zoe is currently looking ahead to the forthcoming college adventure (location unknown).
The Young Authors Collective, or YAC, is a group of talented, word-obsessed high school writers dedicated to experimenting with new creative forms, collaborating with other arts organizations, and writing a ton with the help of Lighthouse instructors. This year, the YAC is reading The Book of Unknown Americans alongside Cleo Parker Robinson Dance and will be organizing a dance and writing collaboration with the local dance company later in the year.