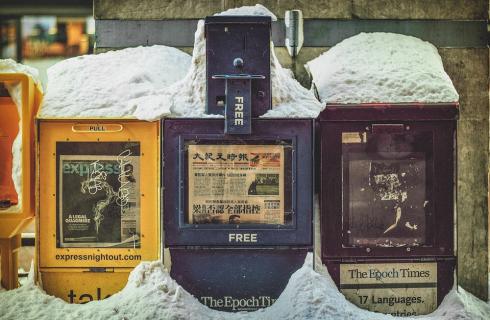 By Corey Dahl
Journalism is kind of having a moment right now. John Oliver's bringing our attention to crucial under-reported issues in the most entertaining way possible. Making a Murderer is a bigger hit than Fuller House. And Spotlight even won best picture.
[caption id="attachment_8522" align="alignright" width="148"]
Joel Warner[/caption]
If you've ever wanted to become a reporter—or maybe just write the occasional freelance piece—now is as good a time as any to start. Even better: Lighthouse instructor Joel Warner, a former Westword staff writer whose work has appeared in publications like WIRED, Slate, and Bloomberg Businessweek, is leading our Hands-On Journalism workshop starting next week.
Here, he gives a preview of what students can expect—and get from—his class, whether they're interested in reporting or just want to dabble in a different form of writing.
Q. What kind of student should take this class? Do you need to have a background in journalism?
A. I have had all sorts of students take this class in the past, from folks who've never published a piece of journalism to working freelancers who've already had bylines in some of the biggest magazines out there. And honestly, they've all said they gained something from the class. That's likely because I try to focus on concrete, real-world tips and tricks that novices and established journalists alike can use to quickly and efficiently find killer nonfiction stories, pitch them to eager publications, then report and write them in a way that allows the story to sing. Then again, maybe my students were just being nice to me...
Q. What's the goal in this workshop? What skills do you hope students will walk away with?
A. The goal is to provide students with time-tested tools and processes that will help them succeed in every part of the journalism process, from finding stories to connecting with editors to interviewing sources and turning your reporting into narrative. But if folks were going to get one thing and one thing only from my class, it would be to understand the difference between "subject" and "story." It's amazing how many professional journalists these days often don't understand the difference— and if you hope to have your writing stand out from the pack, this is all that really matters.
Q. How can basic journalism skills benefit memoirists? What about writers who might lean more toward fiction or poetry?
A. While my class is geared toward learning the ropes of narrative nonfiction and journalism, my humble opinion is that a lot of the concepts we explore could benefit writers of all stripes. I discuss practical ways to develop story ideas, interact with difficult editors, build story outlines in Microsoft Word, overcome writer's block, manage limited writing time, and navigate the financial pressures of the writing life. I think these are the sorts of things that all writers would enjoy learning about.
Q. Anything else that's interesting/different about this class?
A. As much as possible, the class is designed to be a hands-on experience. Students are encouraged (although not required) to develop nonfiction story ideas, craft formal magazine pitches, and engage in reporting that will lead to a final piece of nonfiction writing. These assignments can be tailored to the needs of those working on memoirs, books, etc., but these tasks are helpful no matter your writerly interests. For example, each week, we start the class with an informal "story pitch" session where students discuss what caught their interest this week. While this doesn't generate real stories in most cases, it helps students to learn how to critically observe the world around them, to not take things for granted, and to spot killer stories in the making. This is a great skill not just for writers, but for anyone who wants to live a more engaged, interesting life!
Our Nonfiction Writing Workshop: Hands-On Journalism starts March 21. Click here to register.