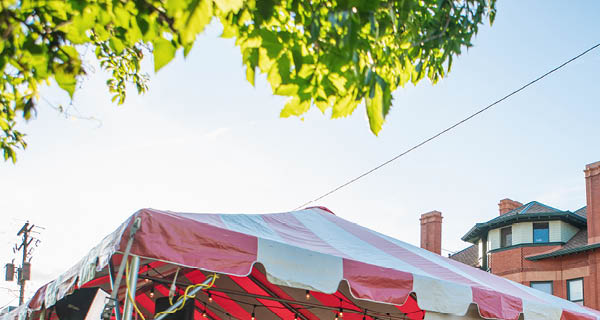 Editor's Note: In lieu of being able to participate in a Lit Fest Fellows Reading, we've put together a short Q&A with Lit Fest Nonfiction Fellowship Runner-Up Ilse Josepha Lazaroms.
What's your writing journey been like prior to being named a runner-up for the nonfiction Lit Fest Fellowship?
Last week I came across a sentence, in Jamaica Kincaid's story, "Biography of a Dress," that read: "Every life, I now know, is a haphazard mess." It's true, and yet it's so wonderful to read this somewhere, in print, instead of feeling your own life is a mess and it's a bad thing. It's not a bad thing. No one's life is a straight line, or even a line, and I think that – at least for me – the idea of linearity, or "progress," can be such a trap. All this to say, my writing journey has been rather fragmented, with lots of interruptions and detours (often literally). I did a lot of academic writing, sometimes as a way, I suspect, to postpone the thing that really matters to me. I have always written, and I've always read, but I started Vinter, my novel, in earnest in the summer of 2013. In English, then in Dutch, for my publisher in Amsterdam. Then Duets, in the winter of 2017. In Dutch, and now in English. Something clicked when I returned to the US last summer. I applied for a fellowship at Tin House, and traveled to Portland in February. And now Lit Fest. In those short months, I have met so many wonderful people, and I feel part of something. A community. It gives me a sense of clarity as a writer. A sense of belonging.
How's your Lit Fest experience been so far? Is there anything in terms of your experience that you're excited to apply to your writing in the future?
Lit Fest has been incredible (even online, which is a huge feat! – for a brief while I mourned not getting to see the Rocky Mountains, but then I pulled myself together and counted my blessings; those mountains can wait). I was in Sarah M. Broom's workshop on the archive as story builder. I loved it. It was intense, fast paced, and yet intimate – it was her voice, I think, her passion for the texts we read, knowing that her process created The Yellow House. I loved the other people in our class, too. I learned a lot about myself as a writer. That it takes confidence to bring that point of view to the page. I got a reminder that I needed to push harder. Lean into where the pain is, the discomfort, and stay there – which I do, but being in workshop can reveal your blind spots. I love that. It takes many pairs of eyes to make a book. Of course, I do miss being in a room with people, and so I'm already dreaming of another Lit Fest, this time in person.
What are you working on/got coming out?
Right now, I am in the midst of revising Duets, a nonfiction book about (sole) motherhood, academia, and intimate partner violence/gaslighting. It's the manuscript I workshopped at Lit Fest (and also at Tin House). The feedback I got was generative, some of it cracked me open (where I needed to be cracked open), and I know so much more about the narrator now, who she is. It's the discovery of voice, and it's thrilling. I also wrote a novel, Vinter, a story about grief, displacement, and the hold of the imagination. It's set in Budapest, Hungary, where I lived for some time. It got signed by an indie press here in Amsterdam, Cossee, and is coming out later this year.
What's been your favorite book/author/art discovery this year? 
O, so many! Living in Cambridge, Mass., this year has been a dream in regards to books, book talks, and author events. I have loved getting to know the work of Saidiya Hartman (Wayward Lives, Beautiful Experiments: Intimate Histories of Riotous Black Girls, Troublesome Women, and Queer Radicals), Mikki Kendall (Hood Feminism: Notes from the Women that a Movement Forgot), Cathy Park Hong (Minor Feelings: An Asian American Reckoning), and Natalie Diaz (Postcolonial Love Poem). And Jazmina Barrera (On Lighthouses, translated by Christina MacSweeney). The list goes on (and here, a shout out to my local indie, Harvard Book Store, which has been great throughout it all).
Ilse Josepha Lazaroms is a writer of fiction and nonfiction. She has an MA in Gender studies and a PhD in Jewish studies. She is the recipient of the Tin House fellowship for single parents and first runner up for the nonfiction fellowship at Lighthouse Writers Workshop. Her novel Vinter is forthcoming with Cossee Publishers (Amsterdam) in fall 2020, and she is a regular contributor to the Dutch Review of Books. Her book of nonfiction, Duets – an account of (queer, sole) motherhood in the context of academic itinerancy and intimate partner violence – is near completion. Born and raised in the Netherlands, Ilse has lived in Budapest, Jerusalem, Oslo, Florence, New York City, and Cambridge, MA. She currently lives in Amsterdam with her daughter. Find Ilse at www.azarelpress.com and @ilsejosepha.