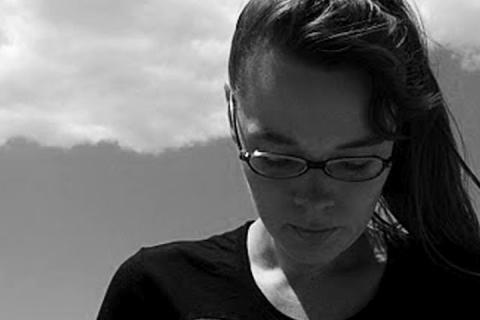 By Kristin Pazulski
When you read a piece by Jennifer Denrow, you absorb her relationship with the world—one of wonderment and causal adventure. Her carefully chosen words reflect a pondering mind and her structure defies genres. Because of this, her work has repeatedly been used in prior Lighthouse experimental form workshops as a sample of mid-genre writing.
Now Jennifer, a National Endowment for the Arts creative writing fellow, is joining Lighthouse's faculty to teach Experimental and Hybrid Forms, starting Thursday, August 21. We wanted you to get to know her so we asked her a few questions about her writing.
How did you know you wanted to be a writer? How did you begin?
When I was a child, I would write plays for the neighborhood kids to perform. I also wrote stories and would enter Young Author contests at my school. The winners would attend a writing conference. I did this a few times.
[caption id="attachment_6203" align="alignright" width="300"]
Jennifer Denrow teaches Experimental/Hybrid Forms starting next week.[/caption]
I stopped writing for a long time, and then, when I was 18, I started again. I went through many different majors in college, but it wasn't until my fourth year that I took a creative writing class and realized that's what made the most sense to me. I then went on to study writing. For me, it's the best means of understanding my relationship to the world.
You're teaching Experimental/Hybrid Forms this fall—how does your work defy genres?
My work is sometimes reviewed as poetry, sometimes as fiction, sometimes as inter-genre. I think it's partially due to my relationship to the line, which I often extend to contain the thought, and what's most closely related to the thought. I tend to work with stanzaed paragraphs. Also the register—I oftentimes mix elevated or heightened language with more common speech.
Do you think it's difficult to "invent or dissolve a genre," as your Experimental/Hybrid Forms class description mentions?
I'm not sure it's difficult, but I think it's what language necessitates. Because texts are constructed with genre in mind, and because genre is a result of recognizable conventions in writing, the two are inextricably linked and never still. Because language is never static and the way in which we organize language is never static, it only makes sense that genres continue to come into and out of focus. The invention and dissolution of genres will continue to occupy our relationship to language in a way that keeps us surprised and invested.
What should the writers in your workshop be prepared to tackle?
The writers in this class should be prepared to be/become comfortable with uncertainty; to ask, and be asked, questions that don't necessarily have answers; and to position themselves alongside wonder as a means of excavating and developing relationships with the texts we read. Fanny Howe's essay "Bewilderment" is a great place to start. In it, she writes, "Bewilderment is an enchantment that follows a complete collapse of reference and reconcilability."
What about joining the Lighthouse community are you most excited about?
Everything! Since moving to Denver six years ago, I have grown increasingly familiar with Lighthouse. The opportunity to get to know and work with the community of writers in Denver is so exciting! I'm really looking forward to exploring texts that don't fit nicely into any category, and doing that with a group of writers who are also up for the adventure. My friends who have taught at Lighthouse have repeatedly mentioned how much they enjoy teaching here and how talented and insightful the writers are, so I'm most looking forward to hearing these writers' thoughts about hybridity.