This year, Poetry Out Loud will be coordinated by Empowered in Partnership with Colorado Creative Industries. For more information contact Jesse Martinez: Jesse@empowered-people.com or 720-205-2864
What is Poetry Out Loud?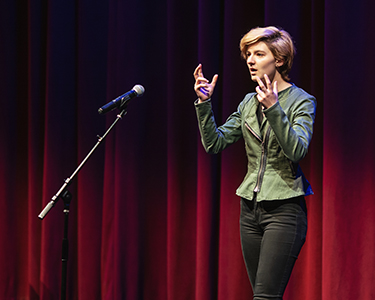 Poetry Out Loud (POL) is a free, national program offered by the National Endowment for the Arts and The Poetry Foundation in partnership with Colorado Creative Industries and Empowered, and is open to all Colorado high school students, grades 9-12. Poetry Out Loud encourages students to learn about great poetry through memorization and recitation. Students who participate in POL develop and improve their public speaking skills, build self-confidence, and discover a love of poetry and the written word.
How does POL work in Colorado?
The program starts in the classroom/school or at the local level with an area organization or as an independent student. For 2023-24, Poetry Out Loud school/local competitions can be conducted virtually or in-person. Winners from school and local competitions then advance to state competition, and ultimately to the national finals. Awards and placements are determined solely by the judges' scores based on the Poetry Out Loud Evaluation Criteria.
Non-school organizations, such as after school clubs, libraries, or non-profit organizations, may also choose to run Poetry Out Loud. Students may only compete in one stream—either with their school or an organization. Students unable to participate at their school or local organization are also able to participate and can register as an Independent Student. Please see "Who may participate?" (below) for more information about registering your school, local organization, or yourself.
The Colorado POL Champion receives $500 and an all-expense-paid trip to the POL National Finals in Washington, D.C. (**The 2022 National Finals have been rescheduled as virtual finals**). The State Champion's school receives $500 for the purchase of poetry materials. Colorado's POL First Runner-Up receives $200, with $200 for their school. At the National Finals, a total of $50,000 in awards and school stipends is awarded annually, including a $20,000 prize for the Poetry Out Loud National Champion.
How do I run a school or local competition?
Colorado's POL program must be implemented from September through January in any classroom, club, after school program, homeschool program, or community organization. 
If more than one classroom in a school or organization is participating, organizers should hold classroom competitions to determine which students will compete in their school-wide event. In order to host a school/local competition, organizers must have a minimum of two students and three judges. The winner of school/local competitions were to have registered for Colorado POL State Finals by the deadline.
How much does it cost to participate?
Poetry Out Loud is FREE! And POL's free curriculum is available online for teachers and local organizers to use with their students.
Who may participate?
All types of high schools are welcome to participate, including public, private, parochial, independent, charter, etc., as well as homeschool students. Non-school organizations, such as after school clubs, libraries, or non-profit organizations, may choose to run Poetry Out Loud as well. Students unable to participate at their school or local organization should contact Jesse Martinez, Colorado's Poetry Out Loud coordinator at Jesse@empowered-people.com or 720-205-2864 and complete the registration form  to discover opportunities for inclusion in the official Poetry Out Loud program.
Please know that only schools and organizations registered with their state Poetry Out Loud coordinator are eligible for the official competition. Also, only currently enrolled students in grades 9-12 are eligible, with an exception made for 8th-grade students participating in a 9th- through 12th-grade class.
For a full list of participation requirements for local, state, and national events, please refer to the Rules & Eligibility page on the national POL website.