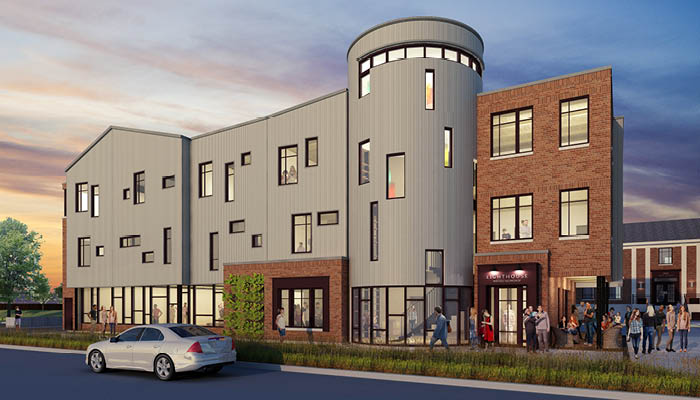 Art connects community. Story brings us together.
Arts organizations like the Denver Art Museum, Denver Center for the Performing Arts, Museum for Contemporary Art, and Lighthouse all bring the power and potential of art into our community in tangibly impactful ways. Lighthouse alone focuses on the ways the art of writing can teach, heal, connect, challenge, and inspire.
We aim to keep leading the way—and to invite even more people in our community to experience the transformative power of writing and reading.

Founded in 1997, Lighthouse has grown from a small cadre of literary types to a diverse community engaged in an active creative culture. Over 22,000 people of all ages and walks of life participate in Lighthouse programs each year, a number that's growing by the day. It's no wonder we've outgrown our current location at 1515 Race Street.

Now is the time to write the story of a new home—an innovative space that looks a lot like Denver's literary future, one that embraces a new vision built upon the foundation we've already made. We have purchased the land on which we'll build our new home, along the newly developed 39th Avenue Greenway in north-central Denver, on York Street. To date, over 100 supporters have joined in the effort to fund the project, including generous grants from the Bonfils-Stanton Foundation and the Gates Family Foundation. Hear more from our Executive Director about the vision in this February 2021 Westword article. 
Here's how the new space will write the next chapter:
Writing Workshops: Throughout the year, hundreds of weekly workshops nurture writers of all ages and experience levels through the drafting, revising, and refining of poems, plays, screenplays, novels, short stories, essays, memoirs, and everything in between.
A More Equitable Literary World: Through focused projects, including our Writing in Color and Queer Creatives programs, we seek to amplify the voices of traditionally underrepresented writers, build community, and foster a more diverse, equitable, and inclusive writing community in Colorado.
Community Engagement Programs: From weekly Hard Times workshops, designed for people experiencing homelessness and poverty, to programs at libraries and museums and women's shelters, we take our programming directly to people who need it.
Young Writers Program: We serve thousands of young people through school partnerships, community programs, in-house workshops and summer camps, and our Young Authors Collective for advanced teen writers. With several schools in walking distance, our after-school and summer writing programs will serve neighborhood youth in new and creative ways.