Poupeh Missaghi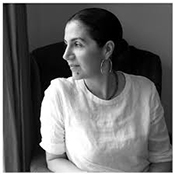 Contact Info:
Poupeh Missaghi is a writer, a translator both into and out of Persian, Asymptote's Iran editor-at-large, and an educator. Her debut novel trans(re)lating house one was published by Coffee House Press in February 2020. She holds a PhD in English and creative writing from the University of Denver and an MA in creative writing from Johns Hopkins University. Her nonfiction, fiction, and translations have appeared in numerous journals, and she has several books of translation published in Iran. She is currently a visiting assistant professor at the Department of Writing at the Pratt Institute, Brooklyn.
Poupeh Missaghi 's Published Work
This is the third class I've taken from Poupeh, and for the third time everyone—EVERYONE—was clamoring for a four-weeker. That's a reflection of how alive we came at Poupeh's content, insight, spirit, and exhortation. I'm actually tearing up as I write this; her classes go far beyond technique to the deepest places of our humanness -- which, of course, our writing is an extension of. Bless Poupeh for every class, and bless Lighthouse for bringing her as often as possible.
Scott Sawyer