Richard Froude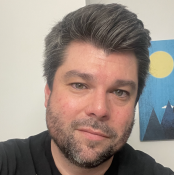 Young Writers Program

Hybrid

Nonfiction
Contact Info:
Richard Froude is a writer, teacher, and physician in Denver, Colorado. His fourth book - Your Love Alone Is Not Enough: A Novel In Ruins - was published in November 2018 by Subito Press at CU Boulder. He is also the author of FABRIC (Horse Less Press, 2011), The Passenger (Skylight Press, 2012), and Tarnished Mirrors: Translations of Charles Baudelaire (Muffled Cry Editions, 2004). His writing has appeared in various publications including Conjunctions, Witness, The Florida Review, Diagram, Tarpaulin Sky, The Denver Quarterly, Bombay Gin, and The Sycamore Review. He has read and performed his work widely - including appearances on public radio in California, Oregon, and Colorado. He holds an MFA from Naropa's Jack Kerouac School, a PhD in English from the University of Denver as the 2010-11 Evan Frankel Fellow, an MD from the University of Colorado School of Medicine, and was the recipient of the 2013 Wabash Prize for Nonfiction. He has taught MFA students at the Kerouac School's Summer Writing Program since 2011, alongside various nonfiction, memoir, and hybrid/experimental forms workshops at Lighthouse since 2012. In addition, he has facilitated writing workshops with the Alzheimer's Association and taught as a guest artist on several occasions at the Denver School of the Arts. He works as a physician in the University of Colorado Psychiatry Residency and is a poetry editor for the Journal of Medical Humanities. His research interests include the cultural history of psychosis, creativity, and mysticism, and the utility of psychedelics in the treatment of mental illness.
Richard Froude's Published Work
Richard Froude is an amazing instructor—very knowledgeable and engaging. He introduced me to authors I was not familiar with, and was careful to give every participant an opportunity to contribute. He was very supportive and positive in his approach.
Elissa Stein