Tracy Ross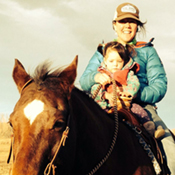 Contact Info:
Tracy Ross is an award-winning journalist and contributing editor at Backpacker Magazine, an ASME award–winning outdoor publication with 1.2 million readers. She has been published in the U.S., England, South Africa, and Australia. Her essay "The Source of All Things" has won the National Magazine Award in 2009 and has been selected for inclusion in The Best American Sports Writing and The Best American Magazine Writing. Her Skiing magazine story "Our Country Comes Skiing in Peace" received a notable mention in Best American Travel Writing, and her work has also appeared in Outside and Women's Sports Illustrated. 
Tracy Ross's Published Work
Tracy is highly knowledgeable about book proposals. She shared valuable information about how to write the parts of a book proposal and read examples for these parts.
Anonymous