Fiction Fellow for Emerging Writers
Selected by Jacinda Townsend
Fellowship winner: Joyce Li, from "City of Darkness"
Judge's statement: "In the Kowloon district of Hong Kong, two sisters out for adventure are confronted with the specter of their father's sacrifice. The lyricism of this piece is just as rich as its vintage scenery."
Runner Up: Lucy Marcus, from "Long Island, 1961"
Judge's statement: "The precision of an artist's work is outdone only by the precision of language in this excerpt from a longer work. Readers are thrust instantly into the plot of this novel when the sculptor's husband tries to involve her in a friend's real estate business."
Honorable Mention: Valentina Ríos Romero, "Omens"
Distinguished Finalists: Logan Hoffman-Smith, Brenton Zola
Nonfiction Fellow for Emerging Writers
Selected by Harrison Candelaria Fletcher
"This was really hard. Particularly for a triple Libra such as myself. Amazing writers. All of them. These books are going to be on the shelves before we know it."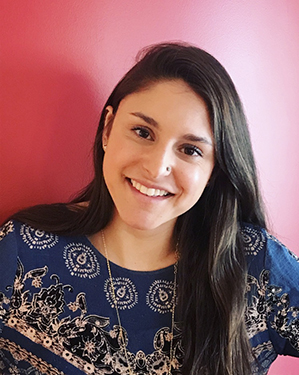 Fellowship Winner: Emma Zimmerman, from "Translation" (Brooklyn, NY)
Judge's statement: "This excerpt from Translation is everything its title suggests – the conversion of meaning from one to the other, in this case, notions of identity, ethnicity and belonging as told through the relationship of a granddaughter and her enigmatic 93-year-old grandfather, who immigrated from Puerto Rico at age nine to become a chief neurosurgeon. With vivid, lyrical language and exquisitely drawn characters, this writer examines anew the timeless questions of who we are and how we come to be and whether we can be defined by a past we don't understand and a place we may never know. A rich, beautifully textured story of love and becoming. Congratulations!"
Emma is a writer and journalist based in Brooklyn, New York. Her journalism has appeared in Outside, Runner's World, Trail Runner, Women's Running, and Taproot Magazine. Her literary nonfiction was awarded the 2021 PRISM International Creative Nonfiction Prize. It has appeared in Away Journal, Canyon Voices Literary Magazine, and PRISM Magazine. Emma previously founded and hosted the Social Sport Podcast, on endurance athletes committed to social change. She is currently completing her MFA in Creative Nonfiction at New York University. 
Runner-Up: Michelle Polizzi, from "Untitled, Part I"
Judge's statement: "Haunting. Evocative. Stunning detail and narration. I look forward to reading this in print."
Runner-Up: Olivia Gerber, from "Say the Word"
Reviewers' Statement: "This is a strong piece, a reflection on the writer's childhood in a cult interspersed with research on the cults and how we make sense of the idea of one. I'd love a little more context earlier, but I admire the writer's focus, exploration, and restraint."
Distinguished Finalists: Becca Andrews, LK Artez, Katie Bennett, Shana Graham
Poetry Fellow for Emerging Writers
Selected by Carolyn Forché
Fellowship Winner: Peter Burzyński, from "A Short Lesson in Eastern European History" (Milwaukee, WI)
Judge's statement: "'Fields of Flame' opens this manuscript with a taut, chiseled lyric hinting at the pandemic with the image of a powder/ blue mask, and collapsing a thousand years of time into a harvest of bombs. This is followed by poems that are vividly imagistic, with muscular diction and rhythmic mastery. Artful, impressive and very promising."
Runner-Up: Elizabeth Johnston Ambrose
Judge's statement: "'Her Father Calls to Explain that Daughters Aren't Easy' includes poems that play beautifully with forms and registers to establish a resonant, plaintive, unsentimental voice that reports on the vicissitudes of a woman's coming-of-age, with candor and humor."
Special Mention (Perfect Score from Judges): Monica Romo, from "Poems on Fracture, Poems of Fruit, Poems on America, Poems on Un-America, Poems on Love"
Reviewers' statement: "These poems are really a delight to read—politically fierce in their critiques of whiteness and American culture; playful in the way the slide across the page; rich in their articulations of queer desire. All of these virtues are evident in the first poem in the packet, 'p(o)em (o)n changing the spelling (o)f my name t(o) make it s(o)und mexican again,' which gleefully breaks up English words and insists on the sonic richness andspecificity of a Spanish o: '...just by lengthening my ó longer / than the wind capacity of Yankee lungs does his my o pia come...' Likewise, the rollicking picaresque 'Azul que te quiero / azul'—its title a pun on Lorca; its narrative a dunk on the habits of whiteness: 'Newly unemployed, I touch the word 'Hispanic' on the forms. I scratch it off and write 'VIVA LAS RAÍCES.' This feels like fully realized work from a dynamic and original poet."
Distinguished Finalists: Nicole Arocho Hernández, Maria S. Picone, Katy Scarlett, Simone Zapata