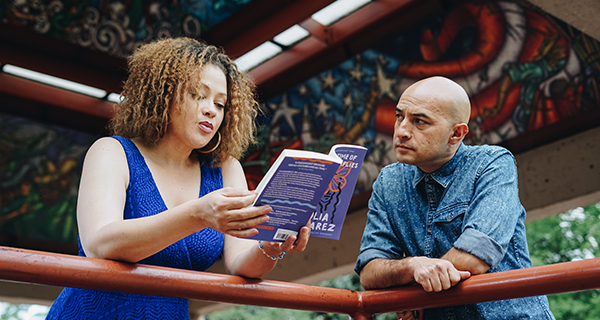 Editor's note: find a book discussion for In the Time of the Butterflies here.
At my book group's initial "getting to know you" meeting in 2001, we talked about favorite books and authors. This was before book groups became a "thing." Not counting our time as students, all of us were new to the idea of a prearranged book discussion. We enthusiastically threw out author names and book titles, eventually coming up with a schedule and a reading list.
The group had been together for about a year when we read In the Time of the Butterflies. The novel, suggested by group member Mira, was by an author most of us hadn't heard of – Julia Alvarez.
I remember that discussion. We talked about the Mirabal sisters, the structure of the novel, the way each sister had a voice in the story. As one of two writers in our group, I recall being impressed with Alvarez's lyrical use of language and persuasive characterization.
We talked about the political situation in the Dominican Republic that forms the backbone of the story. For most of us, myself included, it was an education. This is history not typically taught in U.S. schools.
When I asked Mira recently about this particular meeting and why she chose that book, she said that one of the things that struck her when our group had that initial gathering and discussed our reading preferences was how few Latino authors most group members had mentioned. "Isabel Allende," she said. "Gabriel García Márquez. That was about it."
She was right. One of my favorite things about being in a book group is that it exposes me to authors I might not have found on my own. Alvarez was one such author.
This, to me, is one of the great strengths of book clubs – and of events like the NEA Big Read of In the Time of the Butterflies. Community reading offers us not only the joy of the reading process itself, but also the pleasure of discovering and sharing books with others.
As an author, I've met with dozens of book groups to discuss my novels. What I notice about every group I meet with is that book groups get people thinking – and talking. Whether it's a neighborhood club, a group of librarians, residents of a senior center, or any other group that forms around a love of books, reading is only one common denominator. The others are community – and discovery.
Would I have discovered In the Time of the Butterflies on my own? Possibly. Would I have had the opportunity to learn not just from my own takeaway of the book, but also from others' views, if I wasn't in a book group? Not as likely.
I'm currently rereading In the Time of the Butterflies, so I can more fully participate in NEA Big Read events. In book club, Kali Fajardo-Anstine's Sabrina & Corina is our October read – partly because two of us had this book on our suggestion list for this year, and partly because we plan to attend the conversation between Fajardo-Anstine and Alvarez on November 6th.
May you, too, find pleasure in community, and joy in discovery. That's what books are all about.
Cynthia Swanson is the New York Times bestselling author of The Bookseller and The Glass Forest. Find Cynthia online at www.cynthiaswansonauthor.com and follow her on Facebook, Twitter, and Instagram.