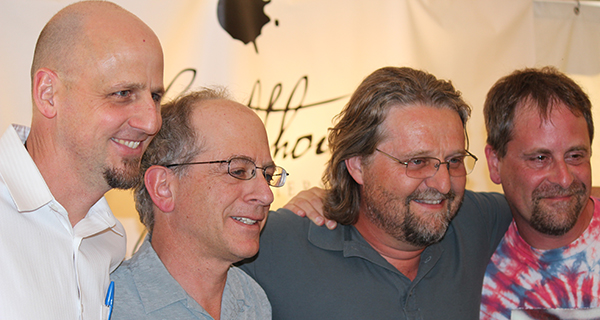 Editor's note: If you'd like to share your own memories of Chris Ransick, we encourage you to write to us at info@lighthousewriters.org. We'll compile and share them at a later date.
When Chris Ransick won the Colorado Book Award for his collection Never Summer back in 2003, I remember standing in the back of the Seawell Ballroom and cheering loudly. Chris and I had recently gotten to know one another, and quickly found we had a lot in common. We're both from the sticks of New York—he upstate, near Auburn, and I, from Buffalo. We both liked ice hockey and played the game as kids, sometimes outdoors. We both lost a beloved parent too soon. And we both loved poetry as something both urgent and necessary.
When you feel like you have a lot in common, when every time you see this person you feel a little jolt of happiness, when you spy a mischievous glint in their eyes and they see the same in yours, you feel a bond you hope will strengthen over time. You feel like a kid again, and the world is suddenly open to possibility in a way that only a kid can understand. That's how I felt whenever I came upon Chris, and that's how I felt that night in 2003, seeing him up there on stage. That feeling has not left me, in all these years since.
Like young boys, our friendship deepened as we explored the woods and hiked up mountains and leaped across rushing streams. We talked well into the night. We played music together, me doing my best to keep up. We dispensed advice to one another. Mostly this was one way—from him to me. One lazy August afternoon, he took me to purchase a guitar and taught me the basics. I returned the favor, leading him once on a long bike ride up a gravel road that clung to a mountain near Winter Park. We never made it to the top, but never mind. At the apex of our ride, he pulled out a flask of whiskey and took a long pull as I delicately sipped a brightly colored sports drink. As the old saying goes, it's the journey that's important, not the destination. The time spent with friends out in nature, doing, living.
Chris knew these old truths well. He lived by their credo with great vibrancy, and guarded his journey well. The seriousness with which he practiced the arts he loved—being a husband and father, teaching, poetry, music, gardening—served as life lessons for me, and many, many others. You see, Chris was a born teacher. I can't really say this any other way. His entire life was structured around energizing the spirits and minds of others. I don't think I've ever met a person who so naturally inspired others through mere living by example—embracing beauty and sensation, teaching the craft of poetry, sharing the work of others, sharing his own poetry. 
For all this, but especially for his work in the classroom, he was awarded Lighthouse's Beacon Award for teaching excellence in 2013, an honor he deeply deserved. Over the years, he's mentored and inspired so very many people. Always, these lessons were clear and straightforward. Work hard. Take yourself seriously. Read widely. But most of all, this: experience the sensory magic that is life. Eat well, drink good liquor—with friends, if possible. Travel. Make things, using your hands. Dig in the dirt and grow a garden. I think it's safe to say we all loved this about him—his deep and abiding joy of living fully in the world.
These last few months, even as he struggled with his illness, he was devoted to his writing. Just a few weeks ago he wrote to me, in typical Chris lyricism, "I'm just on fire with the hope I can get these manuscripts in something like a publishable form before I drop my pen." He knew time was closing in, but still he lived how he always lived: at full speed. But what's even more remarkable is how, sick as he was, he kept teaching. He asked about my writing and how it was going, dispensing encouragement and advice. He offered to read any new poems I might want to send his way. About Lighthouse, his words were generous and encouraging. Always, he will be this to me: an instructor, a mentor.
I'll be honest: right now I'm a bit overwhelmed with grief, as are so many of you—especially his family. My heart goes out to them, and I pray they find some comfort in knowing the profound, lasting effect he's had on us all. 
Where do we go from here? What do we do now? I know what Chris would say. Be present in this world. Keep working at your craft. Protect your time and your loved ones from those people and things that will take and not give back. 
The last time I saw Chris, we hugged in the parking lot at Lighthouse. We both knew this would be our final goodbye. Not surprisingly, he said just what I needed to hear. He said, "I'll always be with you." 
And he's right. I have all of these memories to keep. I have all these lessons he's taught me. And I have his poems. We all have them. 
Rest in peace, my friend. Someday soon we'll meet up yonder.
I VISITED MY HOUSE
—Chris Ransick

I visited my house long after death,
home where I slept fifty thousand nights

in a basement room, place where I learned
the growth of grass, the health of dirt,

the shape of trees' shade, the slant of
solstice sun through the drapes, the scent

of the neighbor's towering lilacs, the sound
of his daughter who tortured pianos.

I visited my house where I no longer lived,
got down on my knees at the garden's edge,

paused at the unwatered strawberry patch,
dead mint still fragrant, wild thyme

scraggly but hanging on. I moved through rooms
where I once reclined, each silent

and reconfigured, unfamiliar furniture,
the aroma of strangers' meals in the air.

They'd painted the walls, they'd driven in nails,
hung a poster of a pop star where once

was a flower from Georgia O'Keefe.
I found them asleep and I hovered above

but the malice I felt dissipated because
I could tell that they loved in the house

where I'd lived, in a bed where we'd loved
in the bed that we had. It comforted me

that the lock on the door was the same sticky one
that had been there before. If I'd had my key

I could open it still, though incorporeal,
I've no need for a door. I shall never return

to my old house again for there's nothing to say
that has not yet been uttered by some other dead

disappointed home-haunter. All my children are gone,
though their cries linger on in the walls and halls,

where I nurtured their bodies and added the fuel
to the lamps of their souls until flames were sufficient

to burn on their own. Bless this house, bless this house,
let the new guest grow old here, salting its floors

with honest tears, scenting rooms with the blooms
of his dreams, singing out the sounds of his names.
Michael Henry is co-founder of Lighthouse Writers Workshop, along with program director Andrea Dupree.