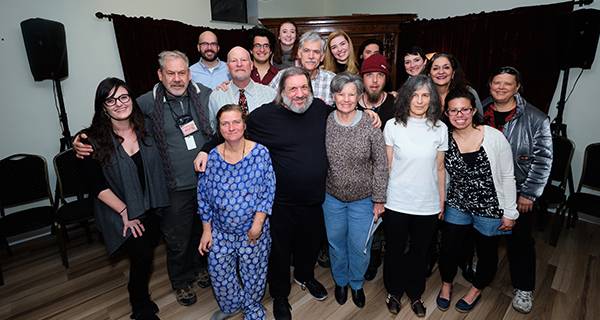 Editor's Note: This is the second in a series of essays and podcasts in which readers and writers from all corners of the Lighthouse Writers Workshop community express why they believe in our mission to elevate the literary arts. Please support these important programs on Colorado Gives Day, December 10, when every gift is boosted by a $1.5 million incentive fund. Save time by scheduling your gift today; just select "Colorado Gives Day" under frequency and your donation will be processed on the 10th and boosted by the incentive fund.
Pick one life changing event Lighthouse has provided for me... Where to begin? So many of these experiences—from reciting my poetry at Lit Fest, hearing my words performed by actors from Stories on Stage, to collaborating with the University of Denver's Department of Theatre and the Stratus Chamber Orchestra—would have been unthinkable before. But let me choose just one; one I wouldn't trade for any other.
Back in the spring of 2016, I had given up on the outside world. I did not leave my apartment, with the exception of doctor's appointments and grocery shopping. Weeks would flow by without any human interaction. Even though the snow-capped mountains and city I used to love to explore were just outside my window, my universe had shrunk to a few hundred square feet. 
Thankfully, I lived only blocks from the Denver Public Library's Central Branch. I, desperate to find some crack to squeeze through that would allow me to reconnect with the larger world, decided to take advantage of one of their free weekly classes. It was a meditation group—a silent, inward activity and something I had experience with before. It seemed like a safe first step, and it was. However, just after the third meeting, I was told the group was canceled. I was despondent until the facilitator informed me of another option: a new writing group called "Hard Times." I liked the sound of it. I have been an on-and-off writer for nearly 50 years but had not put pen to paper for a decade. It seemed worth a try.
I walked into that small room the next week to find a long table encircled by a motley crew of participants, led by Simone, the librarian, and Dan Manzanares and Jane Thatcher from Lighthouse. Jane elicited introductions from each of us, said we were in a positive and supportive space, and told us we were free to participate in the writing exercises and readings or we could refrain and just listen. Looking around at the faces at the table, each with their own story of hardship and resolve printed on them, I felt at home. 
I wrote feverishly for the first twenty minutes. It felt so good and natural. When it was time to share, I felt both nervous and excited. I hadn't shared anything I'd written in so long. One by one, participants went around and shared their stories, memoirs, and poems. The beauty and honesty and skill on display was so much greater than I anticipated. I was shocked. Many of these writers were living on the streets. Many had suffered crushing adversities and calamities. Most were poor, if not destitute. But their words were full of riches; jewel-like phrases that cut deep and bled truth. I was finally happy to be somewhere other than my apartment. I wanted to be here. I was loving it. 
Unfortunately, time ran out right before my turn to read. I was sorely disappointed, but I told myself I would be back the next week and I would read. I made a plan to follow through. I made a plan to become part of the group. It had been years since I had taken such a step. Suddenly, the walls I had built up were falling down. My life had changed in those two hours. This had been the catalyst I needed to find new purpose, to let my creativity flow, to open up my world. Everything I've accomplished since had its genesis in this moment.
I went back the next Tuesday and, yes, I read my new poem. The thoughtful encouragement of my classmates was intoxicating. Our sharing brought us all closer together. We were all there to raise each other up, not to criticize. This was where I belonged, I thought. 
I went back the next week, and the week after, and week after week from then on. It has now been nearly four years and I can count the sessions I've missed on my hands. Hard Times led me to explore other programs and classes offered by Lighthouse and the library, which have deepened my practice and connected me to a community of writers who have welcomed and encouraged me. I have been given more guidance and opportunities than I could have ever dreamt possible.
I believe a single act or moment has the power to change a lifetime. Stepping into that first Hard Times workshop was that moment for me—a moment that lifted me out of despair and put me on the path toward a healthier, more productive life. 
Make no mistake: without Lighthouse, none of it would have happened. I am but one person out of who knows how many with a story to tell about the positive impact Lighthouse has had on them. For as long as the organization exists, there will be many more stories like mine. I thank each and every person involved with Lighthouse because they, together, have helped me succeed beyond my dreams. The organization's mission is one of compassion. I have felt that compassion every day, and I have been made better because of it.
Michael Sindler, a native of South Carolina, has called Denver home for over a decade  He is a writer whose work crosses genres and includes fiction, non-fiction,  memoir, poetry, theatre, and songwriting. His work has been published in various Denver based print and web venues and he has collaborated with and participated in a number of media bridging projects and productions with arts organizations including The Stratus Chamber Orchestra, Colorado Ballet, Sounds on Stage, the University of Denver Department of Theater, Denver Botanic Gardens, Write Denver, Lighthouse Writers Workshop,  Hard Times Writing Workshops, and others. He has been a featured reader at Lit Fest in 2017 and 2018, the Clyfford Still Museum, the American Museum of Western Art, the Denver Public Library, the Denver City Council, the Walk and Ride of Silence Commemorative Presentation, 40 West Arts, the 2017 National Poetry Slam festivities, and the 30th and 31st Annual Podeo Celebrations of National Poetry Month. 
Read the other entries in the Colorado Gives Day 2019 series:
"It Takes a Village" by Tiffany Quay Tyson