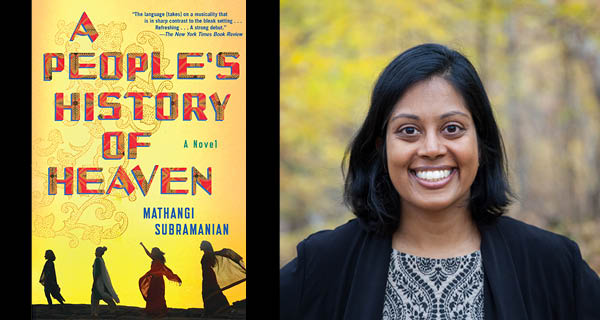 Editor's note: Mathangi Subramanian recently joined Lighthouse to teach fiction (welcome, Mathangi!). Keep an eye out for her upcoming classes. Additionally, she'll be reading along with Corie Rosen at this Friday's Virtual Happy Hour Reading. In the meantime, she generously put together a list of some of her more recent, memorable reads below.
I read across genres, but I am especially interested in reading BIPOC, QTPOC, and neurodiverse modern writers. Here are a few titles I've read recently that have stuck with me. 
Freshwater by Akwaeke Emezi - This novel about a Nigerian protagonist possessed by spirits (known as an ogbanje) is like nothing I've ever read before. Emezi's command of language and plot is breathtaking; every page is pure anguish and joy. Their new book, The Death of Vivek Oji, is sitting on my bedside table, waiting for a time when I can read it in one sitting, because that's what Emezi requires.
Abandon Me by Melissa Febos - In this book about surviving an emotionally abusive queer relationship, Febos writes with a generosity and vulnerability that is absolutely stunning. I love the way she braids so many strands of thought into beautifully coherent, readable essays. I am looking forward to her next book, Girlhood, coming out in the spring of 2021. 
How to Write an Autobiographical Novel by Alexander Chee - The essays in this book just sing. I love the way Chee thinks about craft and story, and I love the tender and thoughtful way he describes his life. Not quite a craft book and not quite memoir, this is one of my favorites.
The Atlas of Reds and Blues by Devi Laskar - Laskar is a poet, and every word of this novel about a South Asian American woman who is shot in a government raid is chosen with artful precision. I love the book's innovative structure and Laskar's treatment of race, immigration, and gender.  
Heart Berries by Terese Marie Mailhot - This lyrical memoir is sparse and powerful, and every line is perfect. Mailhot is from the Seabird Island Band, and I love the way she writes about indigenous culture and decolonization, and applies it to her life as a mother, writer, and lover.
Unapologetic: A Black, Queer, and Feminist Mandate for Radical Movements by Charlene Carruthers - Carruthers is a queer organizer in the Black Lives Matter movement. I love her clarity of thought, her honesty, and her inclusivity. I especially love her chapter on the radical power of imagination, which is so relevant to my creative work.
Good Boys by Meghan Fernandes - Fernandes is a South Asian poet whose vulnerability makes each of her poems shine. I love her treatment of race, gender, bodies, and homelands.
A Life in Transactivism by A. Revathi - This life story of a Tamil transgender activist is one of my favorite books in translation. Revathi's frank and at times humorous voice brilliantly outlines both her personal story and her political agenda. It's a book that reminds me why I love India. 
Why Women Were Enslaved by Thanthai Periyar E. V. Ramasamy, translated by Meena Kandasamy - Another book in translation, this is a series of essays published in pre-independence India by Periyar, a feminist, anti-caste activist who changed the face of Tamil - and Indian - politics. In the 1930s and 1940s, he argued for the decriminalization of sex work, expanding our definition of gender, and ending marriage as we  know it. Another book that makes me proud to be Indian.
Meena Kandasamy - Kandasamy is a Dalit poet, novelist, and translator whose work is always transcendent. I love everything she's written, but I especially love her poems in Ms Militancy and her novel The Gypsy Goddess. Her latest book, Exquisite Cadavers, is now available in the US.