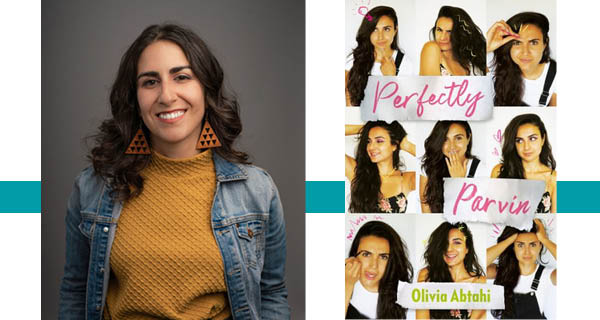 Editor's note: Olivia Abtahi recently joined Lighthouse to teach fiction (welcome, Olivia!). Keep an eye out for her upcoming classes, like "Writing YA: Finding Your Voice" on Saturday, October 30. 
Before she was a full-time author, Olivia Abtahi was a documentary filmmaker focusing on environmental racism and social justice. Even though her medium and audience have changed, Olivia's work still draws attention to these themes. In her most recent YA novel, Perfectly Parvin, the 14-year-old title character struggles to understand the racism happening around her and the government policies that are hurting her friends and family. While writing about such complex issues meant simplifying them a great deal, looking at them through Parvin's eyes was "challenging but rewarding," according to Olivia. 
Parvin experiences big emotions that swing wide—something that Olivia remembers from her own life as a teen. Those extremes are part of what Olivia loves to write in YA fiction, drawing on moments of strong emotion. The bones of Parvin's experience are Olivia's own, including her half-Iranian background, and Parvin struggles with the things every teen does alongside the heavy issues Olivia spent her early career tackling. One difference between Olivia and Parvin in Olivia's own words, however, is that Parvin is "much cooler than [she] ever was, and has a much better sense of self than [she] ever did." Drawing on both her experiences in film and her own life, Olivia Abtahi's Perfectly Parvin reflects what it means for a young person to face old struggles. 
What drew you to writing YA fiction as opposed to other areas of fiction?
I've always loved young adult novels, and writing one was a no-brainer for me. The feelings in YA novels are often bigger; the emotional swings are wider, and I love exploring those extremes.
How does your life experience as a teenager/young adult play into your writing now?
It is a big part of my writing. As a teen I always felt things so deeply, and I draw on those moments for my novels. I'm also lucky to be married to someone I met in high school, so every time I worry my memory is failing me, I can always turn to them and get another primary resource.
To what extent is your novel, Perfectly Parvin, based on your own experiences, and to what extent is it fictional?
The bones of my novel are similar to my upbringing; like Parvin, I am half Iranian. But Parvin is honestly so much cooler than I ever was, and she has a much better sense of self than I did. If Parvin and I existed in the same timeline, I would probably never even register on her social radar!
How do your experiences publishing with a major publisher like Penguin Random House differ from publishing with a smaller group?
PRH definitely has a lot of resources that help make the book shine. Just having an Iranian-American art director on staff was huge for me and my book cover. But smaller publishing houses are really rooting for their authors, and the biggest resource they can give their authors is time, something larger houses don't necessarily have!
How do your interests in social justice and climate equity interact with your writing?
Before I was a full-time author, I was a documentary filmmaker, and I'd usually cover instances of environmental racism or social justice. Now, I feel like I very subtly draw attention to these struggles in my writing for children. In Perfectly Parvin, Parvin doesn't fully understand the racism that's happening around her, and the government policies that hurt people like her and her family. Writing about these issues through the eyes of a fourteen-year-old meant I really had to boil them down and look at them through her eyes, which was challenging but rewarding.
---
Olivia Abtahi is a writer and filmmaker based in Denver, Colorado. Born to an Iranian father and Argentinian mother, she is a mix of distinct cultures. Her debut novel, Perfectly Parvin, was published in 2021 through Penguin's Putnam Books for Young Readers while her second book, Twin Flames, will be available Fall 2021 from Tu Books. In her spare time Olivia enjoys binging music videos on YouTube, laughing so hard she can't breathe, and hitting 10,000 steps on her FitBit.