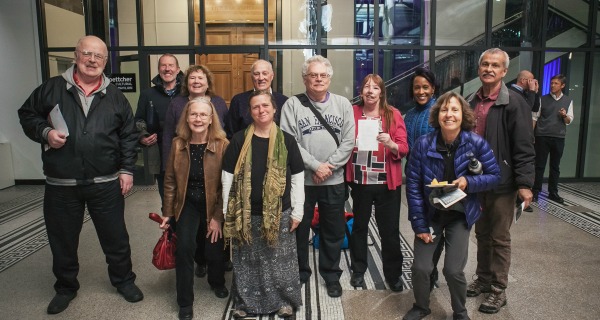 About two years ago, we started the first Hard Times writing workshop at the Denver Public Library, and since then, it's become one of the most vibrant and successful programs for both the library and Lighthouse. So much so that, earlier this year, we launched a second Hard Times workshop at the Arvada Library.
There's this wonderful sense of community, fellowship, and support that the writers show for one another, and whenever I go to one of the workshops, I am deeply inspired by their willingness to share and to cheer one another on. It always fills me with a feeling of hope and generosity.
This is important work. I remember going to a lecture by the psychologist Rollo May, who said that all creativity comes from suffering. And if you're a human being, you're already a pro at suffering. As May also said, "One does not become fully human painlessly."
The act of using creativity in language to express what it's like to suffer—what it's like to be human—is an act that's alchemical. Not only does it change the writer, but it also changes the listener, the reader. It brings us to a confluence—joining together to build a sense of understanding and caring for one another. It refuses to let us say, well, I don't want to know, I don't want to care about that person. I want to look away. I want to stay in my own little cocoon. I don't want to deal with these issues, like homelessness, like income inequality, like our national tendency toward incarceration.
This is exactly what we cannot do as a society and culture. We must seek to understand one another, to share our voices, to come together in our humanity—and, to me, there's no better way to do that than through writing and sharing.
But that's just a first step. The works created in our Hard Times writing workshops and shared at events like our recent Voices from the Edge performance with Stories on Stage and our Lighthouse Reading Show raise some pressing questions—questions about the current world we're living in. For example:
Why is it that over 5 million of us are either in prison or on parole in this country?
Why is it that we are spending over $600 billion a year on defense?
Why is it that our culture is so stressful that many of us self-medicate ourselves, thereby opening the door to the dangers of addiction?
And why is it, in this great city of ours, that there are so many sleeping on the streets? And why are there signs throughout this city saying you cannot rest here, you cannot stay here, and if you do, we will take your meager belongings away from you? No, we won't help you find a warm place to sleep; we are going to strip you of your dignity and make you move on.
Yes, this writing and listening, this sharing of stories and creative work, is a very important first step, but there's much, much more work to do.
Michael Henry is the executive director of Lighthouse Writers Workshop.