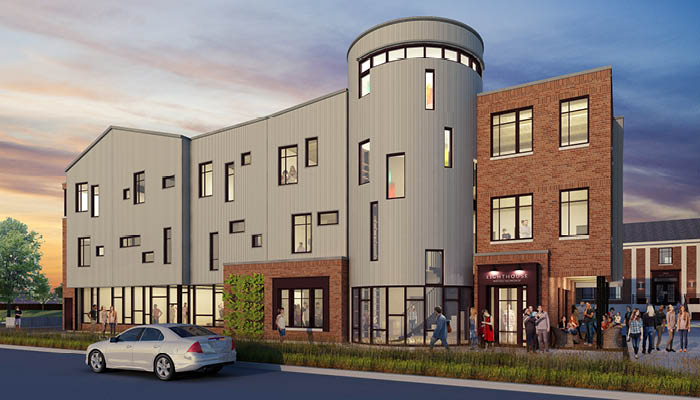 Colorado's arts council, arts funders, and local officials support development of a permanent literary arts center
DENVER, CO (March 10, 2022) — Lighthouse Writers Workshop is honored to announce that they are the recipient of a $2,400,000 Community Revitalization Grant from Colorado Creative Industries (CCI), a division of the Office of Economic Development and International Trade (OEDIT).  
"This is an incredible statement of support for literature and how writing can make positive impacts on individuals and the culture," said Executive Director and co-founder, Michael Henry. "We'll finally have a home that addresses all our programmatic needs, a comfortable, inspiring, inclusive space that brings people together, a place to celebrate literature and the stories we need to tell–and hear."
The funds will support Lighthouse in building Colorado's home for the literary arts. With this grant, Lighthouse will be able to break ground on their new home in April 2022. This means we will be breaking ground in the next several weeks; stay tuned for further details. The 11,000 square foot building will include a dozen classrooms, a performance space that seats 220, and spaces for writers and readers to gather and join in community. Located in the Clayton/Cole neighborhoods, it will serve as a community resource, with space made available to local arts organizations, non-profits, public schools, and community groups. Plans also include a lending library for Lighthouse members and those living close by.
In this building, Lighthouse will write a new chapter,  deepening impact by expanding programming, serving youth, amplifying and elevating historically excluded communities, and continuing to create a supportive physical and virtual space for Colorado's literary culture.
The project has received support from leading Denver-based arts funders Bonfils-Stanton Foundation and Gates Family Foundations as well as local officials including State Senator James Coleman, Representative Leslie Herod, and Senator Michael Bennett. 
Senator Coleman said, "Lighthouse has mastered not only the art of writing, but the art of listening and nurturing community narratives. Access to the arts for the folks who live, work, and educate in Globeville, Elyria, Swansea, North Park Hill, Whittier and surrounding areas is a vital link to creativity, history, partnership, and perseverance for those whose words have yet to be heard, and whose stories need to be told."
In her letter of support, Representative Herod wrote, "The ability to write well pays dividends in countless ways, but perhaps most valuable is the chance for historically marginalized communities to feel safe in telling their stories, feel empowered by the skills and practice, and feel supported by those who mentor them. The creative arts know few boundaries, and Lighthouse will continue to stretch its own reach with an accessible, larger, more inclusive campus that will serve the neighborhoods and residents of Denver (and beyond) for years to come."
###
About Lighthouse Writers Workshop 
Lighthouse Writers Workshop is Colorado's nonprofit literary arts center. Our mission is to ensure literature maintains its proper prominence in culture and individuals achieve their fullest potential as artists and human beings. For 25 years, we've offered award-winning writing workshops, author events, and community engagement programs to people of all ages and backgrounds in Denver and beyond. For more information, visit lighthousewriters.org.
About Colorado Creative Industries
Colorado Creative Industries is a division of the Colorado Office of Economic Development and International Trade. Established to capitalize on the immense potential for our creative sector to enhance economic growth in Colorado, the mission of Colorado Creative Industries is to promote, support and expand the creative industries to drive Colorado's economy, grow jobs and enhance our quality of life. For more information, visit coloradocreativeindustries.org.