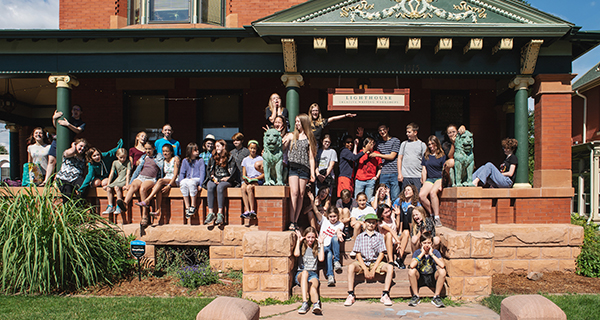 Editor's Note: This is the third in a series of essays and podcasts in which readers and writers from all corners of the Lighthouse Writers Workshop community express why they believe in our mission to elevate the literary arts. Please support these important programs on Colorado Gives Day, December 10, when every gift is boosted by a $1.5 million incentive fund. Save time by scheduling your gift today; just select "Colorado Gives Day" under frequency and your donation will be processed on the 10th and boosted by the incentive fund.
I was a participant in the Lighthouse High School Writing Workshop in 2017, the summer before my senior year of high school. It was an enlightening yet intimidating experience; I found that there are many young writers like myself with talent and drive, and in some ways, I felt that everyone had found their writerly voice before me. In retrospect, that wasn't true at all. In fact, everyone probably felt some sort of doubt creep into their minds as they wrote amongst their peers.
This past summer, two years later, I returned to Lighthouse, this time as an intern. I was able to aid instructors with camps, work with campers to hone their skills, work as an editor of this anthology, and (possibly most importantly) deliver snacks to the porch during snack times. I was nervous walking in as an intern because I am still just an aspiring writer trying to edge my way into the literary community. I had no idea what to expect.
There was that doubt again. It followed me like a ghost at every moment as I walked through the house for the first few days. Yet, it disappeared when I actually started working with the young writers. They were joyous, teeming with enthusiasm. And it wasn't just a general excitement that children seem to possess; no, they were in love with the idea of writing. It fascinated me. For weeks I couldn't decipher how they could harbor such an appreciation and excitement for writing at such a young age.
I had the opportunity to lead an activity with one group of kids. It was essentially an exquisite corpse game where they would write a line and pass it to the next person where they would write another line. It was a simple game meant to be fun, but when they shared some of the wildly absurd stories they had created as a group, I realized something important about creative writing: it's freeing. As they erupted into laughter at every insane line and plot twist, I saw that storytelling is a way out of the room we are sitting in. Even these young kids knew that writing could move a person from harsh realities and into a comforting, creative place. Writing is a serious art form, but the magic is that it literally transports you somewhere else. On my drive home that afternoon, I sat in one-lane traffic on Colfax and thought about my past experience at Lighthouse as a participant. I recalled the doubt. I also recalled why I loved writing in the first place: it is exciting to utilize the endless bounds of imagination, to build impossible worlds, to create better places to exist in.
I still have a long way to go as a writer, and it's easy to let uncertainty get the best of me as I continue to learn and grow. Being at Lighthouse—that creaky, old, beautiful oasis for creativity and imagination—this summer with all of the campers reminded me of the importance of writing. To have that spark reignited in me by the lovely staff, instructors, and campers at Lighthouse was a gift that I will always cherish. Thank you, young authors—it was truly a pleasure. 
Connor Rodenbeck is a creative writing major at the University of Denver. He was a summer intern at Lighthouse Writers Workshop in 2019, and is the editor of the 10th volume of And We Created Worlds, Lighthouse's annual Young Writers Anthology.
Read the other entries in the Colorado Gives Day 2019 series:
"A Mission of Compassion" by Michael Sindler
"It Takes a Village" by Tiffany Quay Tyson