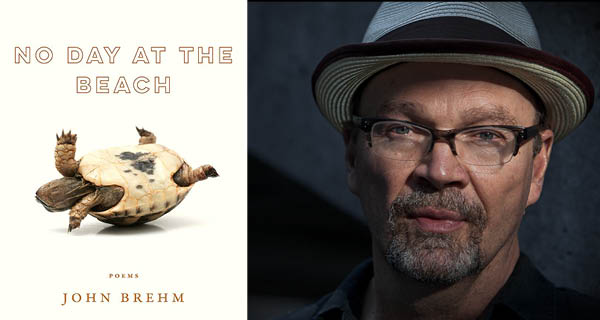 Editor's Note: John Brehm will be reading along with John Cotter, Brandi Homan, and Erika T. Wurth at a Lit Fest Happy Hour Reading on July 1. 
First, congrats on the new collection of poems! How would you describe the journey of writing No Day at the Beach? And, how do you usually celebrate writerly success?
I worked on No Day at the Beach for eight years—my creative metabolism is rather slow—so I put it through lots of revisions, adding poems, cutting poems, rearranging them. I spent quite a lot of time thinking about how to best organize the manuscript, and it does have a kind of arc, moving from loneliness, nostalgia, and a preoccupation with death to marriage, immersion in the present moment, and an embrace of life. 
My successes as a poet have been pretty modest. I've been more successful as an anthologist. My anthology, The Poetry of Impermanence, Mindfulness, and Joy, has sold nearly 20,000 copies in three years, and I get emails from people saying how much they love the book, how it's helped them get through a difficult time, the loss of a loved one, a divorce, etc., and that's been deeply gratifying. Just savoring the good things that have come from my writing is my way of celebrating. 
Can you tell us a bit about No Day at the Beach? What might surprise readers? What surprised you while writing the poems?
No Day at the Beach continues, and I hope deepens, the self exploration of my first two books, Sea of Faith and Help Is on the Way. The 13th-century Japanese Zen master Dogen said: "To study the self is to forget the self." This may sound paradoxical, but to study the self is first of all to dis-identify with it, to hold it at arm's length and see clearly how it operates, and in this way to forget it—to stop believing in it and being run by it. In many of the poems, my intention is to shine a light on the pathos, delusions and absurdity of the egoic mind. Thus, the self-deprecating humor. And then there are moments of freedom in the poems, moments of seeing clearly, of letting go and loving the world wholeheartedly, self-forgetfully. 
Every good poem I write is a surprise for me. It shows me something I didn't know I knew or didn't know how to say until I wrote it. 
Readers might be surprised at the movement toward contentment in No Day at the Beach, as I have been pretty reliably restless and alienated in my other books. Finding my way to a happy marriage (at 60) has changed my writing pretty significantly, as well as my life.
Breakthroughs, obstacles, light bulbs, rages of writing the book?  
One breakthrough was formal: exploring more fully the possibilities of the "skinny poem." These poems are in couplets of between one and three or four words, so the movement is down the page rather than across it, as in longer-lined poems. I'd written in this form before, but not as much and not as well, I think, as in No Day at the Beach. I love the spareness of it and the many syntactical twists and turns necessitated by all the line and stanza breaks. Navigating the form keeps you slightly off balance and therefore more alert, I think. 
Where's your favorite place to write? Is that where most of your writing takes place?
I have a wonderful small study where I do all my writing. It's mostly windows on two sides and feels like an enclosed porch—the walls are shingled inside and out—and on a clear day in summer I can see the peak of Mt. Hood. It has a floor-to-ceiling bookcase built into one wall; it also has a small balcony. I'm very fortunate. 
My study is also where I meditate, and I like the merging of creative and spiritual practices that this implies. 
Which writers/artists/foods are you really into right now?
I've been reading a lot of Linda Pastan lately as well as Ian McEwan. Just discovered Troy Jollimore and plan on diving into his poetry. I'm also loving Kevin Young's anthology The Art of Losing: Poems of Grief and Healing. 
You're an instructor here at Lighthouse, how has working with students influenced your writing?
I love teaching. I find it so nourishing, often exhilarating, especially at Lighthouse, where the students are so smart and insightful, such good writers and such lovely people. But I'm not sure how teaching has influenced my writing. I teach reading-as-a-writer courses that focus on a single poet—Frost, Bishop, Neruda, Szymborska, Ammons, Schuyler, etc.—and that requires a deep exploration of their work, which I'm sure shapes my own writing. But teaching too much would not be good for my poetry. Talking about poems, for me anyway, can drain the energy for writing them. But teaching is such a joy. I never want to stop doing it. 
Any highlights of the book's release (or exciting events to come)?
A few readings here and there, but they've been delayed due to the coronavirus. I have a book of essays coming out in 2021 called The Dharma of Poetry: How Poems Can Deepen Your Spiritual Practice and Open You to Joy. It's a companion to my anthology, The Poetry of Impermanence, Mindfulness, and Joy. I'm very excited for this book to appear. It speaks to the way poems can help heal the wound of separation—the sense that we are all separate from each other and from "nature"—that is the root cause, I feel, of all our problems, the climate crisis most pressingly. 
John Brehm, MFA, is the author of three books of poems, No Day At The Beach, Help Is On the Way, and Sea of Faith, all from the University of Wisconsin Press, and the associate editor of The Oxford Book of American Poetry. His poems have been published in Poetry, The Gettysburg Review, Gulf Coast, Prairie Schooner, The Southern Review, Boulevard, The Missouri Review, Best American Poetry, and many other journals and anthologies. He has taught at Cornell, Emerson College, Portland State University, and The Oregon Writers Workshop. He currently lives in Portland, Oregon but returns as often as possible to teach reading-as-a-writer courses at Lighthouse Writers Workshop.