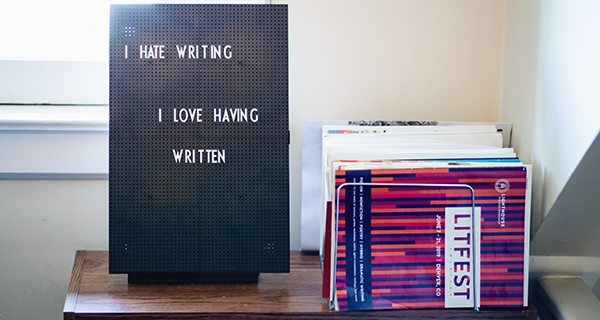 It's kudos time! This is our quarterly opportunity to celebrate the latest publication and award news from our members, instructors, and workshop participants. If you're a Lighthouse member who'd like to share your own good news, let us know here.
BOOK DEALS AND NEWS
Instructor Jesse Morse's book of prose poems, Flash Floods Are Anomalies, was published by Finishing Line Press.
Instructor Michael Chang, this year's Poetry Project Brannan Prize winner, has released Boyfriend Perspective (now out from Really Serious Literature).
PUBLICATIONS
Member Joey Porcelli's short story "Parachute Drop" will be published in Sixfold magazine in Summer, 2022. This story was inspired by a Lighthouse class taught by Amanda Rea.
Member Melissa McInerney's story, "Attic of Regrets," was published in the September issue of Blue Lake Review.
Poetry Collective graduate Cynthia Kneen (pronounced neen) published a poem, "Set Theory Orgasm," in the art and literary journal digital series, Inverted Syntax, Fissured Tongue Volume Three. The journal linked the poem to a performance by Cynthia of "Set Theory Orgasm" in commedia dell arte style (funded by the City of Boulder's Office of Arts & Culture) and used a still from her YouTube performance video for its cover image.
AWARDS AND RECOGNITION
Member Robert Dodge was the winner of the biography/memoir category in the 80th Annual Colorado Authors' League Awards. You can purchase his memoir, Grand Mal: A Life with Late Onset Epilepsy, here.
Instructor Candace Kearns Read's pilot script, "Bottom of the Ninth," was a Semifinalist in the PAGE Awards Screenwriting Competition. Many Lighthousers to thank for their feedback in helping her develop this but first and foremost is Jenny Taylor-Whitehorn and the participants of her advanced screenwriting class this last winter. Also grateful to Michael Catlin and the participants of his Table workshop.
Member Angela La Voie's essay, "The Icehouse," was a finalist in the Winston-Salem Writers Flying South contest and appeared in the 2021 issue of Flying South.
Instructor Alexander Lumans' short story, "Amchitka: Three Tests," originally published in Territory for their Alaska-themed issue, has been listed as a "Distinguished Story of 2020" in the 2021 Best American Short Stories anthology, edited by Jesmyn Ward.
Member Petra Perkins is thrilled to announce she finally published a memoir developed through several Litfest advanced workshops (special thanks to Shari Caudron). Full Circle: A Hands-on Affair with the First Ferrari 250 GTO (co-authored with Larry Perkins) has been shortlisted in the 2021 Faulkner-Wisdom Writing Competition for nonfiction books.