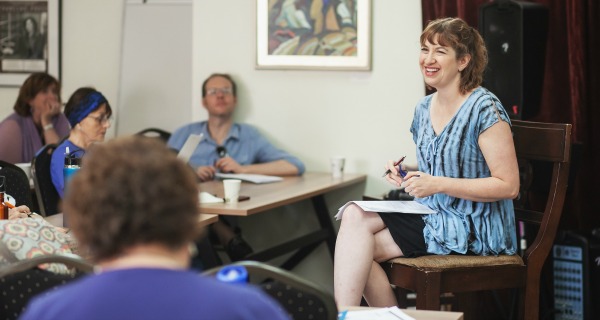 Six years ago, I was feeling quite isolated at home with eight-month-old twins, here in Louisville. I'd been driving to Boulder or Denver to participate in writing communities, and I thought there must be writers who lived close by. So, one day, in between diaper changing and bottle washing, I got online and started the Louisville Writers Workshop through meetup.com. It was to be a free critique group, held once a month at a local coffee shop.
Four writers showed up to the first meeting. We continued with the critique groups, and I started teaching classes to expand on a few of the topics that often came up during our sessions. The group continued to grow, and I began inviting other writers to teach classes. The name evolved into the Colorado Writing School, and six years later, it included 1,300 writers, seven faculty, and me, running the show in between kindergarten drop off and pick up, swim lessons, and t-ball.
Meanwhile, Lighthouse was finding itself at capacity down at Race Street in Denver. They needed a satellite location and I needed help running the show, so we decided to join forces. We launched Lighthouse North, here in Louisville, on July 1. We are located less than a mile from U.S. 36, a fairly easy drive for writers who live in places like Boulder, Broomfield, Superior, Westminster, and other points north. 
We started offering a few courses during the July Session, and we have even more coming up in the Late Summer session, including classes and workshops taught by Doug Kurtz, Erika Krouse, Karen Auvinen, Rhada Marcum, BK Loren, Jenny Shank, and myself. In October, we're hosting our first Lighthouse North Writers Fest, a full day of craft classes and agent advice. (You can browse all the Lighthouse North offerings here.) 
Our goal with this new satellite location is to make the excellent programming of Lighthouse more accessible to writers up north, because—as I discovered—it turns out there are a lot of us.
Rachel Weaver is the Satellite Program Manager with Lighthouse Writers Workshop.