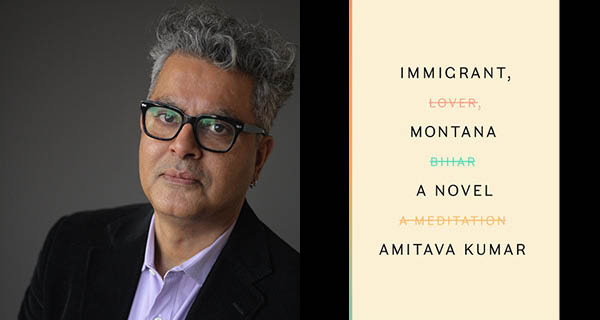 Despite the still-icy sidewalks and brown piles of snow around Denver, spring will be here before we know it. So too will afternoon thunderstorms, scorching temperatures, and of course, Lit Fest, our annual two-week celebration of literature and writing in June.
As the application deadline approaches for the advanced workshops, we checked in with Lit Fest 2019 Visiting Author Amitava Kumar for a quick Q&A in preparation for his Denver visit. (You can view the details for his weeklong workshop here.) Kumar is the author of, most recently, Immigrant, Montana, a "polyphonic and digressive" "in-between novel by an in-between writer" about an Indian immigrant to the US and his romantic and professional travails. It was one of President Obama's favorite books in 2018.
Kumar is a novelist, memoirist, and ever-expanding polymath, and we're thrilled to be hosting him this June. He answers our questions below.
Since Immigrant, Montana was released last year, has the response to the novel illuminated anything in particular for you about your work or about our current moment in terms of many of the novel's themes, like borders, belonging, and sexual expression?
That's a great question. My book was written before Trump got elected. In other words, before the Muslim ban. Before the crisis at the border. Or his outrageous statements about illegal immigrants being rapists and criminals. But I believe that Trump's demonizing of immigrants lends a more energetic, and certainly a more compassionate, edge to the ways in which Immigrant, Montana has been read. There's another very important thing to consider. The book was also written before the recent #MeToo movement took off. My novel is a statement about desire. And desire has now come under a cloud. There are numerous instances in Immigrant, Montana where the subject of violence against women is broached—those instances are more in tune with our current concerns. But the question that Immigrant, Montana raises is a more difficult one. And a necessary one. Namely, what does it mean to be an immigrant in that land called love.
A recent interview discussed your drawing practice. I'm curious, do you imagine drawing working its way into your writing practice beyond heightening your observation skills?
You know, language in a novel is made up of words in the same way that an instruction manual for installing a window is—and yet, and yet... literary language is deployed in a way that makes you aware of words in a new way. What I've liked to do with photographs and other images in my previous books is that they introduce an instability. If you aren't reducing them to illustrations, they raise the question of veracity and often complicate the picture of truth. My fascination with drawings is more recent. Ideally, I'd like to make drawings that also have words in them. I think the words accompanying drawings will work differently from the words on the other pages. I'm excited to find out what will those differences be and what they will mean.
What authors or artists do you currently find hard to stop thinking about? Are they influencing your teaching at all?
My closest friend Teju Cole is a writer whose work inspires me nearly daily. Same with Ben Lerner. Our writer-in-residence at Vassar right now is Jenny Offill. Her last book, Dept of Speculation, is very important to me. And, I think, my students too. Last semester, I taught Olivia Laing's Crudo, and it forced me to think how to write about Trump. How to write about life as it is lived by me? I'm inspired by Rachel Cusk and Sheila Heti. Life is a broad canvas. Just today we discussed in class Max Porter's Grief is The Thing with Feathers. What a gem of a book. It dissolves the boundaries between forms.
Amitava Kumar is the author of Lunch With a Bigot, A Matter of Rats, A Foreigner Carrying in the Crook of His Arm A Tiny Bomb, Nobody Does the Right Thing, Husband of a Fanatic, Bombay-London-New York, and Passport Photos. Kumar's latest book is Immigrant, Montana: A Novel, published by Faber in the UK, Knopf in the US, and in translation by other publishers worldwide. The book came out in India under the title The Lovers: A Novel. He lives in Poughkeepsie, in upstate New York, where he is the Helen D. Lockwood Professor of English at Vassar College. In 2016, Amitava Kumar was awarded a Guggenheim Fellowship (General Nonfiction) as well as a Ford Fellowship in Literature from United States Artists.