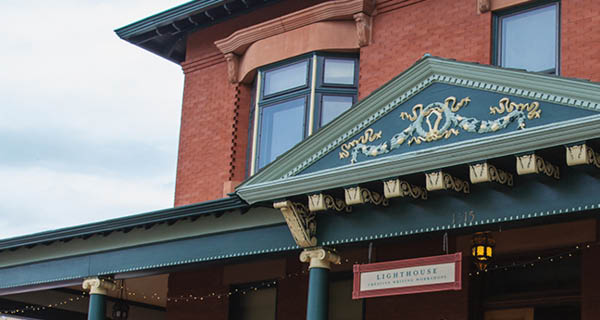 Last week, we wrote to stand in solidarity with the Black Lives Matter movement, and to discuss how it relates to the world of literature and our mission. Since then, like many of you, we've heard statements from other organizations and entities, some of them long-time partners, that we feel we need to address. 
 In response to their recent open letter to the community, Lighthouse severed ties with our longtime bookselling partner Tattered Cover, effective yesterday. We didn't make this decision from a place of self-righteousness. Lighthouse is not perfect—in a thousand different ways. We have been focused on improving our record on diversity, equity, and inclusion (DEI) for years now, but there is still much to do. 
We feel it's important to articulate what concrete actions we're taking to make Lighthouse align with these DEI values:
We're working to build more diverse and equitable leadership among staff, board, and faculty. Part of this process involves identifying who's already represented, how they're represented, and dedicating time and energy to ensuring we're reflective of the wider Denver community. We're collecting data and analyzing it, identifying gaps and coming up with strategies for addressing them. 
In January, we established a diversity, equity, and inclusiveness (DEI) committee made up of board, staff, faculty, and community members to help us work through this first point and make the efforts measurable. Following up on previous efforts, we've scheduled new DEI trainings for board, staff, and faculty in 2020.
We are committed to continuing our Writing in Color and Queer Creatives programs, designed and led by writers from traditionally underrepresented communities. The disparities in the world of publishing are widely known—from drastic inequities in advances to publishing rates—and Lighthouse must listen to participants in both programs about where more support is needed. To that end, we're allocating 4% of Lit Fest 2020 revenue to support the upcoming Writing in Color retreat and to establish Writing in Color and Queer Creatives programming for young writers.
These past few weeks, if we've heard one message, it's this: we must all make a firm and full-throated statement decrying racial injustice or we're a major part of the problem. White people and white-led organizations, building off the work of Black, Indigenous, People of Color activists, need to do the real work of reform. So we're listening and we're acting. The future of our country, not to mention organizations like Lighthouse, depends on it.
Sincerely,
Michael Henry