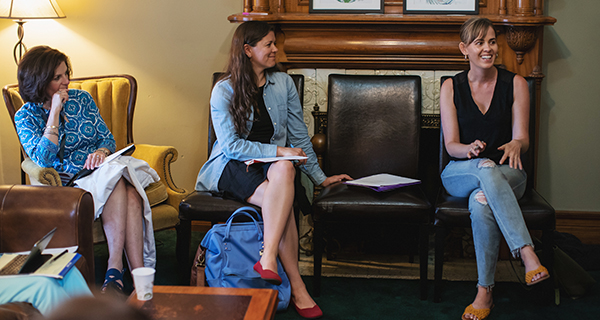 Note from the program director, Andrea Dupree:
About twelve years ago we were approached by a group of writers who wanted to express appreciation for the talented novelist who'd led their workshops over the past several years, William Haywood Henderson. The Lighthouse Board thought that was a great idea, and instituted what is called the Beacon Award for Teaching Excellence, a prize offered to a member of our adult faculty each year, selected by members of the community and the Board, who read through all the year's nominations. This year I was so pleased to learn from board member Rudy Melena, who chairs the Beacon committee, that they selected Amanda Rea. Amanda came to Lighthouse initially through our search for administrative assistant position, a job which she eventually began in 2007. During her tenure at Lighthouse, she built and ran the young writers program, wrote copy, managed the office, made everyone everywhere collapse in laughter, provided us all with great short stories to read (her own), and in all the other ways helped us develop into the organization we're still on our way to becoming. She did all of this while attending to her own burgeoning writing career. Twice she left for coveted residencies—at Provincetown and then the University of Wisconsin—and then, upon her return, began teaching to a devoted following. Recently, she received a Rona Jaffe Foundation Award and appearance in Best American Mysteries.
Come to the our virtual Holiday Party on December 11, when, among other activities, we'll toast her excellence, hear from some of her nominators, and even enjoy a short reading! You won't be sorry.
From Gary Schanbacher, author of the award-winning novel Crossing Purgatory and the short story collection Migration Patterns:
I first met Amanda Rea years ago in a workshop shortly after she joined LH as a barely paid part-time office assistant. In the workshop, I remember thinking we might get busted for underage serving when she poured a glass of wine from a bottle on the table, and I also remember realizing very quickly that she was the most gifted writer in the room. I'll admit straight up, the combination of youth and outsized talent is something I abhor in a writer. It fills me with malicious envy. But it was impossible to dislike Amanda. Not only is she the best writer in the room, she is flat out the wittiest, and the most generous about sharing her knowledge on craft, and the most compassionate in her encouragement of fellow writers. And on and on.
She gave me a bit of advice once. Every story should have a dog in it. And, she implied that however much mayhem occurs, the dog should be left alone. So, flash forward some years and I'm submitting a story, a love story, aren't they all, where a guy and a vet get together because of his dog's illness. I'm sure I was treating the dog as a metaphor about death leading to rebirth (love) blah, blah. I get a call from an editor who was very interested in the story, if only I might consider a few revisions, and suggests what basically were just a line edit or two, so I'm excited, and the editor says, "Just one more thing," and I say, "Sure," and the editor says, "Don't let the dog die."
Moral of the story—ignore Amanda's craft advice at your peril. I've never taken a class by or with Amanda where I haven't come away improved by the experience. And, I've never come away from even the most casual of conversations with her without feeling better about the day. I'm thrilled that Amanda Rea is this year's Beacon Award winner.  
From Michele Johnson, who's been in Lighthouse workshops since the loft days, and who's published work in Colorado Review, Mid-American Review, DIAGRAM, Puerto del Sol, and dozens of other places:
March 2020. As the world around me in Tucson started locking down, a new world appeared. My beloved Lighthouse Writers Workshop went virtual. Covid's silver lining! I immediately signed up for Amanda Rea's Using Time in Narrative 4-week Zoom workshop.
Full disclosure: I was an intimidated fan-girl of Amanda Rea. She's legendary. Her prestigious publication list includes all of my dream journals: One Story, Harper's, the Kenyon Review—it goes on and on. Even Bill Henderson (who can dish dirt with me about anyone) talked about Amanda Rea's workshop on Endings with such reverence, I felt as if I'd once again missed out on Springsteen on Broadway. She even has a rockstar nickname—A-Rea. Who wouldn't be intimidated?
It's not lost on me that taking Amanda's workshop on using time in narrative during the early stages of pandemic lockdown was pretty coincident. How to best use time was a daily mission—trying to carve lethargic chunks of days into something meaningful. I'm pretty sure all of my fellow work-shoppers felt equally adrift. Zoom squares filled up with new faces from as far flung as Japan and as close as a Tucson RV park about 10 miles from my house. 
And, of course, Amanda.
To call Amanda Rea "prepared" is the world's biggest understatement. Each of our four-part sessions came complete with fully realized studies of the weekly topic, together with examples, citations, and Amanda's eager queries to solicit more applicable references from us Zoomies. There is no doubt that Amanda was that kid in grade school who'd raise her hand and remind the teacher to give out the homework assignment. But there's also no doubt she was the most revered, most respected, and most likely to have people looking at her test papers to cheat. As we fiddled with muting and unmuting ourselves and eventually became proficient at changing our virtual backgrounds to Tiger King and the English countryside, Amanda expanded our understanding of literary clocks, time compression and expansion, backward and forward movement, circular time, layered time. She even coined her own term: "Big Fish Time." (Take the workshop.) She's a master. And, as it turns out, incredibly gracious and not intimidating at all. 
A couple more COVID bonuses—I finally got to watch Springsteen on Broadway on Netflix, and Amanda taught her famous Endings workshop online during LitFest. It was as great as Bill Henderson promoted it to be. I wrote a plausible ending to my novel in progress and learned some great alternative strategies for ending short stories. I suppose if I began this pandemic with A-Rea and socially-distanced summered with A-Rea, then surely I can ride out vaccination season with her too, right? I bet she'd teach a pretty kick-ass workshop on Beginnings.
Congratulations, Amanda. You are a marvel. 
Here are a few more plaudits:
Amanda Rea is a treasure of Lighthouse. She inspires with brilliant writing and creates lessons rich in literary examples and prompts with excellent hand-outs as take-aways. Above and beyond the content, it is Amanda herself, with her enthusiasm, humor and intelligence, who makes her classes sought after. I have enjoyed her RAW course on Alice Munro, Lit Fest classes on the power of punctuation and Lost Edens (twice!), and her part in the Grand Lake writing community. I can think of no one more deserving of the Beacon Prize. —Ellen Anderman
Amanda's classes are in a league of their own. And you know it the minute she introduces herself—warm, humble, funny, welcoming—and shares her incredible course outline. Without fail, it reflects a tremendous amount of time, careful thought and preparation, as well as passion. Amanda teaches topics that intrigue her, push her to go deeper as she develops a new class from scratch. And this curiosity/excitement invariably catches fire in her class discussions. —Pamela Kenney Basey

When Lighthouse advertises the next round of classes, the first thing I do is type "Rea" into the instructors' last name search. If Amanda's name comes up, I take the class; genre be damned. I don't care what she teaches. I want to spend time with this generous, brilliant, talented, lovable Renaissance woman who makes me laugh, makes me think, and floods my inbox with handouts. She's the one sitting at the breakfast table in Grand Lake over a bowl of cold oatmeal sharing hilarious kid stories and procrastinating over her impending publishing deadlines. She's the one who digs through the muck of our first drafts and manages to unearth an idea, a sentence, or a phrase she deems worthy. She's the one who encourages us to dig deeper, take chances, explore new genres, write a short story in twenty minutes, figure out how to end it, and overcome our insecurities. Amanda is an extraordinary instructor, an expert grammarian, and an inspiration.

In her honor, I will now share four haikus written by repeated syllabic finger tapping. Please do not let these reflect in any way upon Amanda's teaching skills.

Zoom or in the room,
nobody does it better
Yay Amanda Rea        

Her jokes make us laugh.
She's dedicated to craft
Yay Amanda Rea

In her grammar class,
the test really kicked my ass
Yay Amanda Rea

She won the Pushcart
She's Lighthouse Writers' sweetheart
Yay Amanda Rea—Joey Porcelli