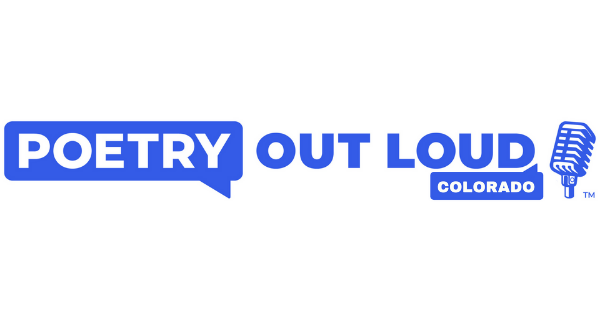 COLORADO CREATIVE INDUSTRIES AND LIGHTHOUSE WRITERS WORKSHOP ANNOUNCE 2021-22 POETRY OUT LOUD
High school students in Colorado invited to compete in national poetry recitation contest
DENVER, September 9, 2021—The National Endowment for the Arts and the Poetry Foundation present Poetry Out Loud™ in partnership with Colorado Creative Industries and Lighthouse Writers Workshop. This national arts education program encourages the study of great poetry by offering free educational materials and a dynamic recitation competition for high school students across the country. The program helps students master public speaking skills and build self-confidence, while also learning more about both classic and contemporary poetry.
From September to March, schools are invited to hold classroom and school wide contests, with students advancing to a state competition. Non-school organizations, such as after school clubs, libraries, or nonprofit organizations, may also choose to run Poetry Out Loud. Students may only compete in one stream—either with their school or an organization. More information is available at poetryoutloud.org, including guidelines for conducting the competition in-person or virtually. State champions will advance to the national finals, which are planned to take place in Washington, DC, April 26-27, 2022, where $50,000 in awards and school stipends will be distributed. More information will be announced in the future. 
Aidyn Reid of Fountain Valley School was named the 2021 Colorado Poetry Out Loud champion. Aidyn was one of three national semifinalists for the western region, and she competed against students from 19 other states (and US territories) in the National POL Finals. Alejandra Naranjo of Eaton High School was the runner-up. Savannah Wanebo of Valor Christian High School was the third winner. Since the program began in 2005, more than 4.1 million students across the country have participated in Poetry Out Loud.
"We are proud to partner with the Poetry Foundation and Colorado Creative Industries to make Poetry Out Loud available to students in Colorado," said Amy Stolls, National Endowment for the Arts director of Literacy Arts. "It is inspiring to see students thrive through this program as they develop a deeper understanding of poetry while building self-confidence."
"All of the student competitors demonstrate their openness to the power of poetry and their commitment to developing skills that allow them to share power with those around them," said Michelle T. Boone, Poetry Foundation president. "The young people involved in Poetry Out Loud are remarkable, and we are honored to be a part of this program."
As part of Poetry Out Loud, the National Endowment for the Arts and Poetry Foundation provide free, standards-based curriculum materials—all available online—which teachers may choose to use in their classrooms. These include an online poetry anthology containing more than 1,100 classic and contemporary poems, a teacher's guide, lesson plans, posters, and video and audio on the art of poetry recitation. Schools are welcome to access these resources at poetryoutloud.org.
How to get involved in Poetry Out Loud
High schools and organizations that wish to be part of the official Poetry Out Loud program must fill out the registration form by December 20, 2021 to participate. Lighthouse Writers Workshop will work with interested schools and organizations to include them in the official Poetry Out Loud program. Contact Roxanne Banks Malia or visit lighthousewriters.org/poetry-out-loud for more information.
Poetry Out Loud awards
Each state champion will receive $200 and will advance to the national championship, where $50,000 in awards and school stipends will be distributed, including a $20,000 award for the Poetry Out Loud National Champion. The state champion's school will receive a $500 stipend for the purchase of poetry materials. The first runner-up in each state will receive $100, with $200 for his or her school library. The Poetry Foundation provides and administers all aspects of the monetary prizes awarded and travel arrangements for the Poetry Out Loud National Finals.
For further information on Poetry Out Loud, visit poetryoutloud.org.
###
About the Poetry Foundation
The Poetry Foundation, publisher of Poetry magazine, is an independent literary organization committed to a vigorous presence for poetry in American culture. It exists to discover and celebrate the best poetry and to place it before the largest possible audience. The Poetry Foundation seeks to be a leader in shaping a receptive climate for poetry by developing new audiences, creating new avenues for delivery, and encouraging new kinds of poetry through innovative literary prizes and programs.
Follow the Poetry Foundation and Poetry Facebook at Poetry Foundation, Poetry Foundation Children, Twitter @PoetryFound and @PoetryMagazine, and Instagram @PoetryFoundation.
About Colorado Creative Industries
Colorado Creative Industries is a division of the Colorado Office of Economic Development and International Trade. Established to capitalize on the immense potential for our creative sector to enhance economic growth in Colorado, the mission of Colorado Creative Industries is to promote, support and expand the creative industries to drive Colorado's economy, grow jobs and enhance our quality of life. Visit coloradocreativeindustries.org for more information.
About Lighthouse Writers 
Lighthouse Writers Workshop is Colorado's nonprofit literary arts center. Our mission is to  ensure literature maintains its proper prominence in culture and individuals achieve their  fullest potential as artists and human beings. For over 20 years, we've offered award-winning  writing workshops, author events, and community engagement programs to people of all ages  and backgrounds in Denver and beyond. For more information, visit lighthousewriters.org.
Follow Poetry Out Loud Colorado on Facebook and Twitter @COPoetryOutLoud.