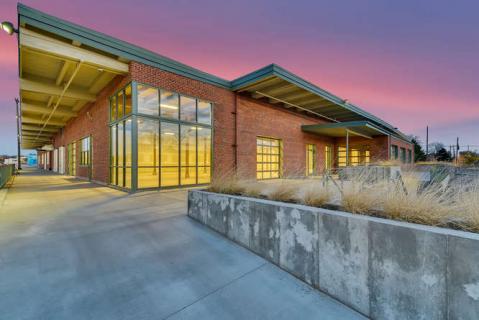 Denver, CO (July 9, 2021)—As many of you know, our ten-year lease at 1515 Race is up at the end of August, so we've found a temporary space for our offices and in-person classes in the interim. The new space is in the York Street Yards, next door to our new permanent home (find directions to our new space here). While we're all going to miss the charm and character of the old house on Race Street, we're excited to get to the new neighborhood, and the organizations, schools, and restaurants and shops we'll be working with for years to come.
The new space is ADA-compliant and comfortable, with access to ample parking. (Feel free to do a little happy dance if you like.) It's also close to light rail and I-70, and is directly adjacent to the 39th Avenue Greenway, which connects RiNo and downtown Denver with Park Hill. This space will serve us well until our new location is ready. 
Starting with the August session, all in-person workshops and gatherings will be held there. We'll also resume use of the Lighthouse North space in Louisville, as demand requires. You can access our COVID-19 Safety Policy here. Additionally, we'll continue to offer lots of classes and programs over Zoom.
The moving process will take place throughout the month of July. By August 15, Lighthouse will be set up in the temporary location. If you'd like to say goodbye to our Race Street house and assist in the move, sign up to volunteer here. And stay tuned for more information on visiting and celebrating this new chapter. 
Our new address is 3833 Steele Street, Suite 1438. View this map for specific directions on how to find our new Lighthouse headquarters.
Our business, including website, email, and telephones, will remain fully operational during the moving process.
Phone: 720-297-1185
Website: www.lighthousewriters.org
Email: info@lighthousewriters.org
Please feel free to reach out with any questions, concerns, or comments.
About Lighthouse Writers Workshop 
Lighthouse Writers Workshop is Colorado's nonprofit literary arts center. Our mission is to  ensure literature maintains its proper prominence in culture and individuals achieve their  fullest potential as artists and human beings. For over 20 years, we've offered award-winning  writing workshops, author events, and community engagement programs to people of all ages  and backgrounds in Denver and beyond. For more information, visit lighthousewriters.org.