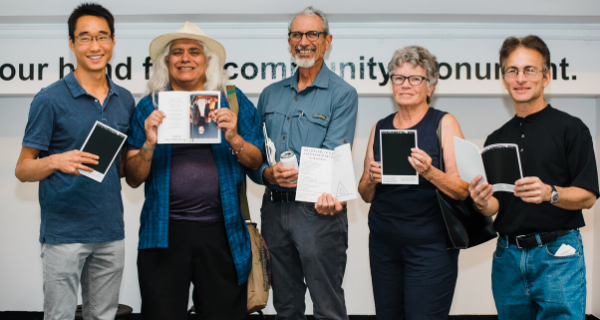 Editor's Note: This is the fifth in a series of essays and podcasts in which readers and writers from all corners of the Lighthouse Writers Workshop community express why they believe in our mission to elevate the literary arts. Please support these important programs on Colorado Gives Day, December 10, when every gift is boosted by a $1.5 million incentive fund. Save time by scheduling your gift today; just select "Colorado Gives Day" under frequency and your donation will be processed on the 10th and boosted by the incentive fund.
It's always easier for me to write if there is already a subject on the table.
Black Cube—Denver's nonprofit, experimental nomadic art museum—visited the Hard Times Writers Workshop sponsored by Lighthouse Writers Workshop and the Denver Public Library with a proposition for participants to write about the monuments in nearby Civic Center Park. Black Cube's focus was "Monumental." 
The subjects were in the park, maybe not living and breathing, but definitely more than being on the table. These were subjects you could walk around and view from many angles.
The chance to be published in a zine on the subject offered more incentive.
On a sunny, sapphire sky day some half dozen of us left the confines of the library to stroll around the park to observe the monuments.
It was fun to pull a couple of free verse submissions together. I noticed the plethora of weapons held by many monuments, even the cannons guarding the State Capitol. Guns are part of Denver's past, so they belong in the park. Another writer wrote about the military monument. Migrants figured in another story.
Even the tingling wait-and-see suspense to find out if acceptance to the zine would happen added to the enjoyment. Whether or not Black Cube accepted my take on the subject, it was satisfying to think about the monuments I saw with the "monumental" purpose in mind.
Black Cube produced the MONUMENTAL Zine, a small format glossy compilation of articles and photographs of monuments and proposed monuments.
In addition to seeing our articles and bylines in print, we gathered with other writers and artists at Understory, by the light rail in the theater district. Enjoying libations and rubbing shoulders with fellow creatives proved interesting at the relaxed reception.
Black Cube fostered a large monument within the Denver Public Library. Now when I pass by the monumental chicken skeleton in the lobby—sized like an enormous dinosaur—I smile and remember the entire monumental experience.
Susan Blosten is an award-winning visual artist and freelance writer who lives in Littleton, Colorado. Read Susan's pieces in the MONUMENTAL Zine here.
Read the other entries in the Colorado Gives Day 2019 series:
"Confessions of a Night Writer" by Twanna LaTrice Hill
"To Build Impossible Worlds" by Connor Rodenbeck
"A Mission of Compassion" by Michael Sindler
"It Takes a Village" by Tiffany Quay Tyson