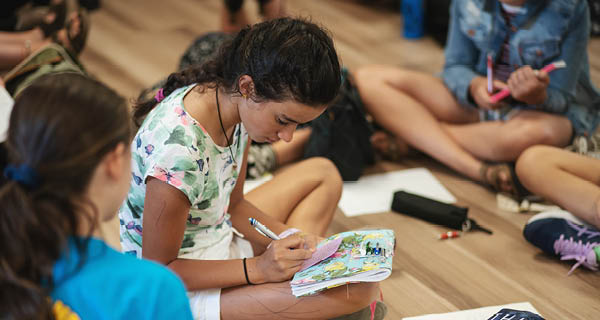 Did you know our youth faculty members are talented, working writers who are also experienced teachers? This week, we wanted to share what some of our instructors have been up to during their time sheltering in place. And just for fun, each of them have suggested a book to  read at home, too. See what they're teaching this week by following this link. 
Andrea Bobotis tells us, "In my household, we've been watching musicals and planting seedlings indoors to prepare for our summer garden. I recommend the middle grade novel My Side of the Mountain by Jean Craighead George, which follows the young Sam Gribley as he learns to survive on his own in the Catskill Mountains. This seems the perfect book for the moment, as it explores Sam's solitude and his discovery of both the grandiose and subtle wonders of the natural world." 
Ken Thompson has been spending his time reading, writing, playing ping-pong, and teaching online acting classes. He recommends the book Ender's Game by Orson Scott Card.
In quarantine, Malinda Miller is juggling double duty continuing her university job and serving as one of the personal assistants to a lovable but high maintenance Boxer, Stella. Since Stella likes to wander into the middle of Zoom meetings and yoga sessions—usually to applause—Malinda is thinking up ways to get Stella booked on The Tonight Show with Jimmy Fallon. Mailinda's book recommendation is Graeme Base's The Eleventh Hour, A Curious Mystery. Read it once for the story and then go back and solve the hidden codes and clues!
Tiffany Quay Tyson tells us, "During this time of shelter-at-home, I've been reading a lot and writing a little. I find it harder to concentrate now, but I am committed to getting a few words on the page every day. I've also been taking a lot of early morning runs and long walks and I recently began listening to audiobooks—nothing heavy or deep, just stories that will hold my attention for an hour as I move through the world alone. Right now, I'm listening to Deep Water by Patricia Highsmith. It's very suspenseful and, as a result, I've run or walked more miles in the past few weeks than I have in years. Reading or listening to a really suspenseful book is a great way to make the hours fly by and to help you think about something other than the news. So I recommend books by Lois Duncan. I Know What You Did Last Summer, Ransom, and Down a Dark Hall are just a few of the titles. I read some of Duncan's books when I was younger and I couldn't put them down. I think those sorts of books—the ones that you can't put down—are perfect for when you're stuck or bored. They let you tune out the world around you and escape into a world where you just want to know what will happen next."
Karen Degar McChesney says, "I've been laughing at my strange new hairdo, going out for "recess" with kids on my block, learning to not put my face too close to the screen during a Zoom class, dressing up to go nowhere (because I'm tired of wearing yoga pants), and having lots of fun long phone conversations with out-of-state friends and family. I recommend the middle grade novel The Unforgettable Guinevere St Clair by Ame Makechnie.
Sydney Fowler has been hard at work teaching youth Zoom classes and creating their podcast The Sensitivity Reader. They recommend the book All the Crooked Saints by Maggie Steifvater.
Kateri Kramer tells us, "Since the stay at home order began, I've been making an effort to do more analogue art projects. Whether that's learning bookbinding or quilting, writing with pen and paper rather than on my laptop, or drawing in a sketchbook rather than on my iPad, it's felt like the 'right' thing to do. I've also spent a fair amount of time with books that I find comfort in; I think that we can find a lot of comfort in literature when things seem so topsy-turvy. Some books that I'd recommend to children are Pax by Sara Pennypacker and The House on Mango Street by Sandra Cisneros.  For teens, try Tattoos on the Heart by Fr. Greg Boyle and The Chosen by Chaim Potok."
From Kellye Crocker: "As a self-employed writer for many years, I've always told people I work at home. What I didn't realize is that I actually worked mostly at my favorite coffeeshops—and I'm missing them! Since staying home for real, I've been journaling and baking, enjoying lunchtime walks with my new office partner (my spouse), taking ten minutes a day to do absolutely nothing, and, of course, trying to write. I was 38,000 words into my latest middle grade novel but it had several problems, so I just started over. I've got 893 words! (And, yes, I kept the other 38,000…you never know.) My book recommendation is Life as We Knew It by Susan Beth Pfeffer. These days, I can't get this title out of my head, even though I read it in 2008, when it came out. The story follows a high school sophomore and her family as they deal with the catastrophic effects of an asteroid knocking the moon closer to Earth. Life changes radically, and the family ultimately is forced to ration food and water, so this may not be the best read for everyone right now. But some readers may find it strangely comforting and inspiring. It's ultimately a story of hope.
From Jessica Comola: "I recommend The Lost Words: A Spell Book by Robert McFarlane and Jackie Morris. Lately, I've been doing a lot of listening. Whether it's hearing young writers read their work aloud in Zoom workshops, or simply sitting near a window, I've tried to focus on the sounds that surround me and I'm trying to slow down and listen for small details I might usually ignore. This morning, before the sun was up, I heard a bird call I've never heard before."  
From Caitlin Plante: "I've been reading, writing, and baking a lot. I've been really enjoying taking walks and spending time in my backyard. I just read Parable of the Sower by Octavia Butler. It was the perfect YA dystopian novel for these uncertain times. It gives the reader hope for a new future, one in which we can adapt and change with our circumstances! This book is definitely for teenagers, I would say its' best for those in high school!"