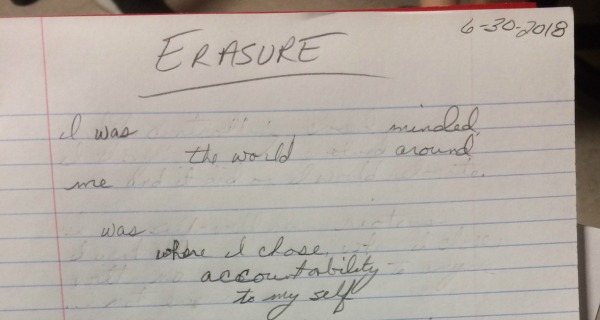 By Kathleen Navarich
Editor's Note: This poem was written by a resident of Fort Lyon Supportive Residential Community, which provides recovery-oriented transitional housing, counseling, and services for homeless individuals.
Lighthouse sent two writers-in-residence to Fort Lyon this year to help participants explore personal histories and provide a forum for practicing creative exploration. This piece was produced during writer-in-residence Alexandra Donovan's stay at Fort Lyon this summer. For more information about the Fort Lyon residency, click here.
Original Poem:
I was controlling, close-minded.
I thought the world evolved around
me and it did or I would relocate.
I was self-will run riotous.
I went where I chose, when I chose,
with no accountability to anyone
…not even to my self.
The hardest thing to swallow
was the fact I didn't know it—you
see, I had no inkling. I never
allowed the veil of myself—justifying
 righteousness—to be lifted.
I'm not sure what most people had
to say because I was taught I didn't
care about them; after all it was all
about me anyway.
My friends were my followers or
they didn't deserve the time of day.
If you were negative you had no
place in my life…after all.
Erasure poem:
I was               minded.         
            the world       around
me
was
            where I chose
            accountability
                        to my self
            the fact,                       you
see, I had
allowed the veil of myself
                        to be lifted.
                                                I
cared
about me
                                    after all.