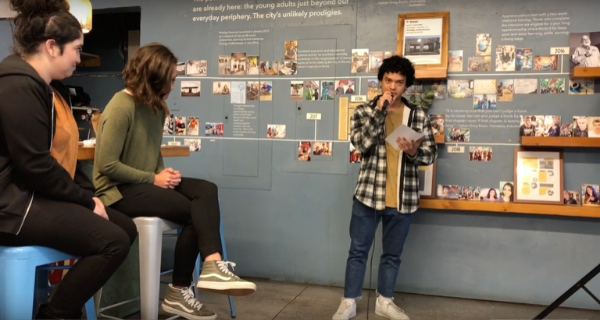 Editor's Note: This is the sixth in a series of essays and podcasts in which readers and writers from all corners of the Lighthouse Writers Workshop community express why they believe in our mission to elevate the literary arts. Please support these important programs on Colorado Gives Day, December 10, when every gift is boosted by a $1.5 million incentive fund. Save time by scheduling your gift today; just select "Colorado Gives Day" under frequency and your donation will be processed on the 10th and boosted by the incentive fund.
My name is David Mejia. I'm 19. Let me tell you the story of how I got to be a part of Prodigy Coffeehouse.
I had just graduated high school and was struggling with what I wanted to do after school. I was having a hard time finding a job and I had a lot of demand at home to help financially. One day I came to Prodigy Coffeehouse just to grab a coffee, I did not know what Prodigy was all about. At the time, I was really interested in coffee and wanted to learn more about it. So I went up to the girl with the blue hair behind the counter (who I now know as Kyra) and asked if they were hiring. She talked to one of the managers and she told me to wait, that he was going to come up in a minute. A couple of minutes pass and this guy with the biggest smile I have ever seen greeted me. I told him my story and my situation, and I got into cohort 10 and the rest is history.
For the past six weeks, my coworkers and I have been in a writing workshop with Lighthouse's really talented instructor, Abby Templeton. We'd meet every week to learn about the different types of poetry, the different ways to express ourselves through our writing, and the power of storytelling itself. Each session was different. Some days Abby would come with props, such as keys, feathers, plants, and other really random stuff. Then we would try to relate those props to a story in our life. Other times we would just free write about our feelings. No matter what method we used every time we wrote we all put a lot of thought and feeling in our writing. 
At first I came into it with not the best attitude. Not gonna lie, I wasn't a big fan of poetry. But this workshop has helped me to not only reflect on the beautiful memories from my life but it has also helped me understand myself better. Poetry has been an outlet for me to express my personal thoughts and feelings in an abstract form of art that only I can understand but one I hope others can relate to as well. My coworkers have used writing as a way to not let their past and struggles hold them back. Abby taught us that when we share our story, when we really let it all out, it brings more power to us and not our story. Writing has made me a lot more comfortable to share my story, it's like a form of release. I'm very happy I got to meet Abby and take part in this workshop.
David Mejia works as a barista in Denver. He also enjoys to sketch and stay active outside the shop. Photography and contemporary art are two of his favorite hobbies. During his free time if he is not taking a nap, he is drinking a cuppa joe to prevent taking a nap. You can visit him on instagram @davidandrem.
David is an apprentice at Prodigy Coffeehouse, a Northheast Denver-based organization that provides technical and applied skills training to young adults (ages 18-24) through on the job professional development modules taught by educators, business mentors, and speciality coffee craftsman. Young adults build skills, social capital, and understanding for success in the new economy, with an impact goal of social mobility. To learn more, visit prodigyventures.org.
Read the other entries in the Colorado Gives Day 2019 series:
"Monumental Fun" by Susan Blosten
"Confessions of a Night Writer" by Twanna LaTrice Hill
"To Build Impossible Worlds" by Connor Rodenbeck
"A Mission of Compassion" by Michael Sindler
"It Takes a Village" by Tiffany Quay Tyson