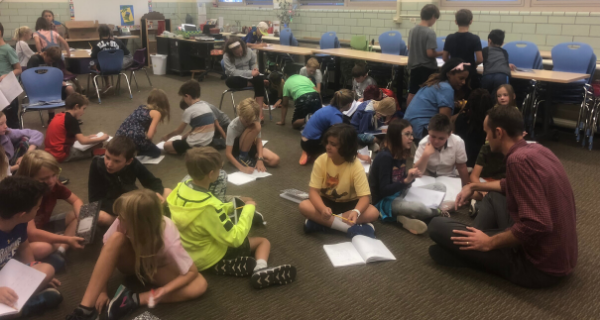 Editor's Note: This is the ninth in a series of essays and podcasts in which readers and writers from all corners of the Lighthouse Writers Workshop community express why they believe in our mission to elevate the literary arts. Please support these important programs on Colorado Gives Day, December 10, when every gift is boosted by a $1.5 million incentive fund. Save time by scheduling your gift today; just select "Colorado Gives Day" under frequency and your donation will be processed on the 10th and boosted by the incentive fund.
For the past two years, we've sent local poets to the DPS charter school C3 (Creativity, Challenge, Community) to work with their fourth graders to explore the question, "What inspires writers to write?" These workshops just met every Wednesday in October for an hour, during the school's "Café Wednesday." Each week, a different poet shared their story of their path to poetry, talked about their writing inspirations, and engaged the students in exercises to help them generate poems of their own. We asked three students to share their workshop experiences with us below.
From Mason Strober: 
On Café Wednesday, we have a professional poet from Lighthouse Writers Workshop come to our classroom to teach us about poetry. The first poet was Kim O'Connor. She taught us about free verse poems and the traits of them. During that time we used unanswered questions and mysterious words to make our free verse poems better. After we made our poems we shared them, too. At that time we were only doing free verse so we learned a lot. It also helped a lot with coming up with ideas for poems because lots of things are mysterious.
On the next Café Wednesday, Assétou Xango came. She taught us about free verse too, but we did it in a different way. First we wrote whatever came to your mind. It was hard to do that because your thoughts travel faster than your hand. It was also hard because thoughts are hard to make sense when written down. After that we shortened the writing and added a title. Then we shared and the writing sounded a lot like poetry. Also she told us that just like that we did poetry. It can be anything and it can also rhyme and have other things to make it sound better to your ears. 
The third poet was Torin Jensen. He was the most interesting to me. He had a very abstract way of poetry. First he showed us some pictures, then he put up a title that fit the picture. Then we made up some meaningful words to make a title for the poem that we made. We made a title that was a little perplexing. Then we drew the poem. We made a poem that was hard to understand but meaningful. And with this kind of poetry, they mean different things to everyone. After that we made our own poems. It was a little bit hard to find a good title, but the rest of it was fun. 
The last poet was Jessica Comola. She taught us about rhyme and the tools and traits of rhyming poetry. First we looked through other poems and found end rhyme and internal rhyme. Then we looked for onomatopoeia and personification. Then we tried doing our own rhyming poems, but that was a little hard because you had to make something interesting and something that rhymes. I really liked that Café Wednesday because I learned how to rhyme, which was one of the things I really wanted to learn. Also I had a fun time doing the rhyme because I can make a rhythm to my poem and play around with it.
I learned a lot from Café Wednesday. I started to like poetry a lot more and started writing poetry at home. I wrote a poem about my dogs and one about the stars at home. I learned a lot, too. I learned that poetry is not just a kind of writing but it is something that you should be passionate about. And I learned that you can write anything you want because poetry doesn't really have rules. It is open to anything you want to do. I also had a good time because I learned to like poetry a lot. And the poet can teach you whatever you need. 
From Connor Strober: 
Kim O'Connor is now one of my favorite poets. She taught us about free verse poetry and how to express our emotions in our poems by showing us one of her poems about souls and where they go, because she wanted to express her emotions when she was sad her grandmother passed away.  
Assétou Xango taught us that anything can be a poem. She had a very good way of making poetry: she taught us to sit for 10 minutes and write down what we thought during those 10 minutes and then make it into a poem. 
Torin Jensen taught us that when writing poems you need to break the rules. He taught us that a poem doesn't need words, instead, the words in his poems are a picture with a title. This is now one of my favorite ways to write and have fun drawing at the same time.   
Jessica Comola taught us about rhyme. She taught us how to use rhyme in our poetry. She also taught us about how rhyme in poetry makes the poem better she also taught onomatopoeia, couplets, end rhyme, and internal rhyme along with personification.   
Having Lighthouse come to our classroom was so much fun and I hope we can do it later this year. The group has made my writing so much better and all the poets were so nice, patient, and helpful. It was surely an amazing experience and inspired me to write poetry of my own. Whenever I get inspired, I write poetry, poetry is so fun to create! Also everybody at Lighthouse is so good that you will be writing poetry in one visit! I just want to give a special thanks to Kim, Assétou, Jessica, and Torin for teaching us about poetry, improving my writing, and inspiring me to write my own poems.
From Zoe Hoppe:
Lighthouse sent four wonderful poets to come and work with our class (also known as Café Wednesday). While working with the four poets I learned a great deal, had a wonderful time, and took away many great lessons. Probably the coolest thing I learned was there is no right or wrong way to write poems! My writing is always a bit better after one of the Café Wednesdays. Poems are a great way of reflecting on many things.  
While working with the four poets I learned many great ways of writing poetry. One thing I learned was that poems can be any shape or break some rules of writing. But they break them for purpose in their poems message and the shape is also a way to make the message clear. Also we learned poems can answer a question. Poems can help you understand the answer better and is a fun way to answer the question (a great way to answer an impossible question, a question without an answer). We learned that a poem is a great way to deal with big feelings. It has been proven that once a you write down a big feeling you are feeling it starts to feel less big! My favorite lesson was when we learned a poem can be a picture with a funny or creative title. The title tells you a lot about the poem, so if you draw a picture with a title that matches it can be a poem. Lastly at our final Café Wednesday, we learned how writing about something you love or miss can feel as if they are there or you are there. There are many ways to write poems, and as you can see I learned a lot about poetry.
When the four poets came in, I took away many lessons that impacted my everyday life and my writing. After learning a poem can answer a question, I now think about a question in a new way after figuring out the answer. Once I figure out the answer, I think about the question in a way that helps me understand the answer. I also now realize that a poem can help us understand a topic. When I learned a poem can express a strong feeling I began to base my poems on a strong feeling. By doing this my poems are more memorable because strong emotions are more memorable than not so strong emotions. Also a poem with a strong feeling can make the message stronger. Then we learned about how poems can be pictures or words, and this made me look at the world in a new way. I began to notice the small, funny, or interesting little things in life. The little things are a great topic for poems. I began writing some poems about places and people I miss. By doing this, I miss them less so I can spend more time in the moment. After each Café Wednesday I leave with another great message.
Café Wednesday was a fun opportunity to improve my poetry. I loved the lesson they planned and it was a great way to experience different poetry. I learned so much and took away many lessons. The impact it had on me was incredible. I hope many other young writers get the experience, too!
Mason, Conner, and Zoe are all fourth graders at the Creativity Challenge Community (C3), a Denver Public Schools choice-only school and luminary school that provides a 21st century education for a diverse population of elementary age students in Southeast Denver. To learn more, visit c3.dpsk12.org.
Read the other entries in the Colorado Gives Day 2019 series:
"Facilitating Friday 500" by Sheryl Luna
"Finding My Place" by Jennifer Wortman
"Like a Form of Release" by David Mejia
"Monumental Fun" by Susan Blosten
"Confessions of a Night Writer" by Twanna LaTrice Hill
"To Build Impossible Worlds" by Connor Rodenbeck
"A Mission of Compassion" by Michael Sindler
"It Takes a Village" by Tiffany Quay Tyson