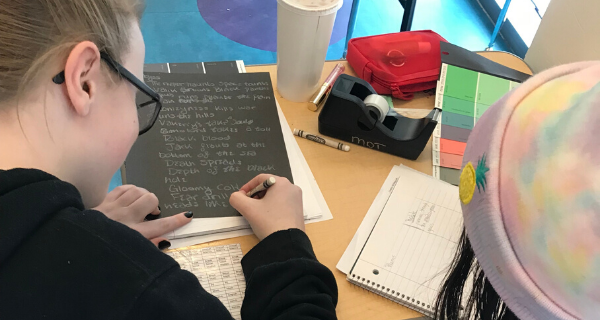 Editor's Note: This is the final entry in a series of essays and podcasts in which readers and writers from all corners of the Lighthouse Writers Workshop community express why they believe in our mission to elevate the literary arts. Please support these important programs on Colorado Gives Day, December 10, when every gift is boosted by a $1.5 million incentive fund. Save time by scheduling your gift today; just select "Colorado Gives Day" under frequency and your donation will be processed on the 10th and boosted by the incentive fund.
By Trinity, a student in our Children's Hospital workshops
When Lighthouse first started at Medical Day Treatment, I was a shy girl who was still "in my shell." If it wasn't for this class, I may not be the understanding, outgoing girl I am today. Having the freedom to write what I want to write helps me to open up more as a person. I love having the freedom to be creative, to choose how I write my poems. Having the freedom to either share my poems with the group or not gives me the confidence to write what I want to write. Having Roxanne Banks Malia as a writing teacher is another great plus of this writing group. Roxanne is an understanding person who gives me and my classmates the freedom to choose to share our work or not. She is also very helpful when it comes to our poetry. She gives us prompts for what to write. Roxanne will explain things in a very descriptive way so my class understands it, and she includes everyone when we are making word pools and sharing our poems. 
Having the opportunity to take this poetry/writing workshop has been one of my best opportunities since I've been at Medical Day Treatment. I have made many interesting and unique poems during this class. Being part of Lighthouse has given me many different types of poems to write and many ways to express what I feel without having to really talk to someone about it. I am grateful for this workshop. I have learned to make a poem from a painting, from a random pile of words, by blacking out words on a book page. I have even learned to play poetry poker. For me, being able to make a whole poem from a prompt with five words is an incredible feeling. Every Tuesday afternoon is probably my favorite time of my week. I like the little notebooks Roxanne gave us to put our own poems in, and I still use the one from last year at home now to write in when I am sad, angry, lonely, or even happy.
Thanks to this workshop, I have made poems about what kindness is to me, how I feel about certain things, and even considered all of the things that I am a friend to. I've used poetry to explain and describe colors and pictures and my feelings during this class. Through the year or so I have spent in this class, I have learned more about poetry, grew as a person, and I also found different ways to connect one thing to another. I know that my classmates and I have had a lot of fun with Roxanne and our little writing workshop.
Read the other entries in the Colorado Gives Day 2019 series:
"How Lit Fest Lit an Unexpected Fire" by Ryan Lanham
"Doors For Others to Follow" by Joe Ponce
"Fort Lyon Standard Time" by Sarah Shotland
"Marking Time in the Lighthouse Attic" by Gay Porter DeNileon
"The Poet Can Teach You Whatever You Need" by C3 School students
"Facilitating Friday 500" by Sheryl Luna
"Finding My Place" by Jennifer Wortman
"Like a Form of Release" by David Mejia
"Monumental Fun" by Susan Blosten
"Confessions of a Night Writer" by Twanna LaTrice Hill
"To Build Impossible Worlds" by Connor Rodenbeck
"A Mission of Compassion" by Michael Sindler
"It Takes a Village" by Tiffany Quay Tyson