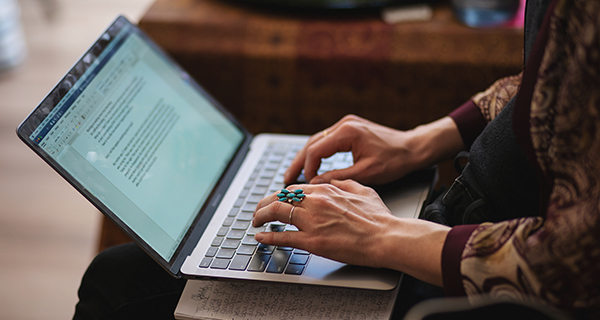 Editor's Note: This is the tenth in a series of essays and podcasts in which readers and writers from all corners of the Lighthouse Writers Workshop community express why they believe in our mission to elevate the literary arts. Please support these important programs on Colorado Gives Day, December 10, when every gift is boosted by a $1.5 million incentive fund. Save time by scheduling your gift today; just select "Colorado Gives Day" under frequency and your donation will be processed on the 10th and boosted by the incentive fund.
The rhythm of writing. The pace of production. The discipline of time. All working together in the collective think tank of the Lighthouse attic, three days a week, eight weeks at a time.
After attending numerous workshops and seminars, Lit Fest intensives and Friday 500s, I knew what I had to do to complete my novel. And that was to write it. Just write it.
Writing at home alone, I committed myself to maybe a couple of hours at a time before the laundry called or the dust on the lampshade demanded my attention. At the neighborhood library I lasted longer, but the comings and goings of other folks were their own distractions.
When I discovered "Getting It Done: 96 Hours Toward a Finished Draft" at Lighthouse, I found my rhythm, my pace, my discipline. By committing myself to Getting It Done, I completed the first messy draft of my historical fiction novel last spring. After three sessions and now into a fourth, I'm well on my way to completing the second, tighter draft this fall.
The regimen of the Pomodoro method (the backbone of the program), with its set amount of time to work and scheduled breaks to recharge, has trained me to focus, to ignore the excuses that dance around the edges of my brain and keep me from writing. To ignore the self-doubts and the urge to edit. To just write.
The regularity of the program has helped me keep a promise to my writing, to allow me to treat it as my job. It's not my hobby; it's not my passing fancy. Writing's my job. I kiss my husband goodbye in the morning, fill my Yeti cup with coffee, and make the half-hour commute in rush-hour traffic to sit at a desk and produce my story.
The ambience in the Lighthouse attic is an affirmation that writing needn't be a lonely endeavor. Most of my time in the attic, I am immersed in my thoughts pursuing something only I can produce. But I'm not alone. Ten or so other writers are in the room with me, exuding their own auras of angst and creativity.
There's no workshopping, no scheduled discussion of individual work, no reading aloud. We don't know what each other has written—or not written—unless we chose to share with each other during our breaks. We support each other nevertheless. During longer breaks and end-of-week check-in meetings, we discuss what we are reading, what inspires us, and tips about the craft.
It's the power of community propelling all of us forward—the program's greatest strength. It's what Lighthouse does so well in so many forums. 
And in the attic, we are Lighthouse at its most productive, twenty-five minutes a pop, four hours a day, three days a week, eight weeks at a time.
Gay Porter DeNileon had a career as a journalist, editor and manager before devoting her time to what she's always wanted to do–write fiction. Thanks to Lighthouse, she's learning the craft and making that happen. As her alternative self, she has a master's in public administration and serves on the Wheat Ridge Cultural Commission and the board of Colorado Press Women. Or she's traveling, biking, reading, hiking, skiing, dancing …
Read the other entries in the Colorado Gives Day 2019 series:
"The Poet Can Teach You Whatever You Need" by C3 School students
"Facilitating Friday 500" by Sheryl Luna
"Finding My Place" by Jennifer Wortman
"Like a Form of Release" by David Mejia
"Monumental Fun" by Susan Blosten
"Confessions of a Night Writer" by Twanna LaTrice Hill
"To Build Impossible Worlds" by Connor Rodenbeck
"A Mission of Compassion" by Michael Sindler
"It Takes a Village" by Tiffany Quay Tyson