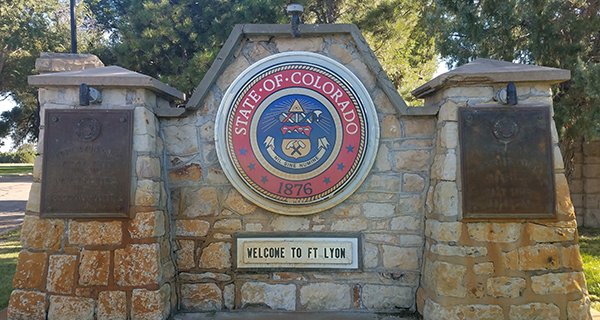 Editor's Note: This is the eleventh in a series of essays and podcasts in which readers and writers from all corners of the Lighthouse Writers Workshop community express why they believe in our mission to elevate the literary arts. Please support these important programs on Colorado Gives Day, December 10, when every gift is boosted by a $1.5 million incentive fund. Save time by scheduling your gift today; just select "Colorado Gives Day" under frequency and your donation will be processed on the 10th and boosted by the incentive fund.
I teach creative writing in jails and prisons, where time is a torture device. Time is what prisoners pay to the state, and many of the men and women I meet there are determined to "use their time." After they leave jail, I often hear the sentiment that people are trying to make up for lost time, make their time count, do as much with this new, fresh time that's humanly possible.
Fort Lyon, where I was the writer in residence for a month this summer, used to be a prison, which is part of the reason I was interested in participating in Lighthouse's Writer-in-Residence Program there. What happens when we look at a prison and can imagine something entirely different? What if instead of a place that steals time, we imagined a time generator? A time multiplier? A place that offered time as a gift rather than a punishment? What would happen to the way people treated their time, I wondered? What would happen to the way people valued the minutes in each day?
I was thinking of these questions theoretically, architecturally, as social experiments. What I didn't consider before I arrived at Fort Lyon was my own, frantic internal race to finish my next book, to cross items off my daily to-do lists, to empty the inbox, to track my:  calories/steps/water/sleep/heartrate. How many words per minute can I write? How many pages can I fill? How many essays can I publish? Classes can I teach? Meetings can I convene? Conferences can I attend? My own relationship to time was never considered as I imagined the abstractions of time served to the state. It never occurred to me that I, too, was serving something with my time.
I wasn't sure what exactly to expect when I arrived. I knew I would be spending the next month living in the women's dormitory, facilitating a writing group for the residents, all of whom are seeking treatment for substance abuse disorders; all of whom have experienced homelessness; many of whom are also veterans. Other than that, I was hoping for a productive month of writing time.
On the day of my arrival, one of my first conversations was with a staff member who told me, "I should probably let you know that there's something around here called Fort Lyon time." I can't count the number of times I heard the phrase "In order to heal, you must rest," in just a month. I can't count the number of times I heard the phrase, "why don't you think on it" when a difficult choice came up. At Fort Lyon, the community has prioritized thoughtfulness and careful consideration over efficiency and crisis-driven decision making. Residents determine what their days look like. I've never heard of a substance abuse treatment center like it. Rather than pushing patients through 30-day, 60-day, 90-day recovery obstacle courses, many people at Fort Lyon are just beginning to make decisions after 30 days. Time is not a scarcity, they have realized. Your time is not a debt or a punishment, it is a gift and a grand possibility.
The community at Fort Lyon is a breathtaking example of what might happen when people allow their imaginations to consider wild possibilities. What if we transformed a site of punishment into a site of healing? What if we used our space with a radically different intent? What if we flipped our relationship to time? Fort Lyon is the answer to those what ifs, and it is a humbling inspiration.
Fort Lyon time moves differently than other time. Fort Lyon time reminds you to enjoy the southeast Colorado sky—melodramatic and moody and vast. It reminds you to look up. To rest. A Fort Lyon minute seems to be longer than other minutes, holds more potential, and yet carries less pressure.
Slowly, the words in my book started to come, the pages stacked up, the hours slipped by in the magic way that all writers yearn for when in midst of a project. When the words did not come, I didn't fret, tortured by the blank page. Instead, I walked the grounds. Visited the cemetery. Made friends. Went to yoga. Hung out in the library. I could trust time at Fort Lyon. I could trust that the words would come again if I didn't mangle them with the pressures of time being wasted with any minute I wasn't producing.  My time was returned to me, like a big sky.
On my last day at Fort Lyon, I bought one of the clocks from the community wood shop. It's been 81 days since I left Fort Lyon Residential Community, and for 81 days I've been looking at the handmade clock that  displays Mountain Time, or as I think of it: Fort Lyon Time. The clock is fashioned from a raw tree ring, polished smooth, a gold dial spinning on its face reminding me: Slow down. None of us are late to our own lives.
Sarah Shotland is the author of the novel Junkette, and a playwright whose work has been produced in theaters nationally and internationally. She was a 2018 Equal Justice Resident Artist at Santa Fe Art Institute, where she was worked on a collection of essays about her work with the Words Without Walls program, which brings creative writing classes to jails, prisons, and drug treatment centers in Pittsburgh. In addition to directing that program, she's also an Assistant Professor of English at Chatham University.

Note: The Fort Lyon Writer-in-Residence program is currently accepting applications for 2020! Learn more and apply by January 1, 2020 here.
Read the other entries in the Colorado Gives Day 2019 series:
"Marking Time in the Lighthouse Attic" by Gay Porter DeNileon
"The Poet Can Teach You Whatever You Need" by C3 School students
"Facilitating Friday 500" by Sheryl Luna
"Finding My Place" by Jennifer Wortman
"Like a Form of Release" by David Mejia
"Monumental Fun" by Susan Blosten
"Confessions of a Night Writer" by Twanna LaTrice Hill
"To Build Impossible Worlds" by Connor Rodenbeck
"A Mission of Compassion" by Michael Sindler
"It Takes a Village" by Tiffany Quay Tyson